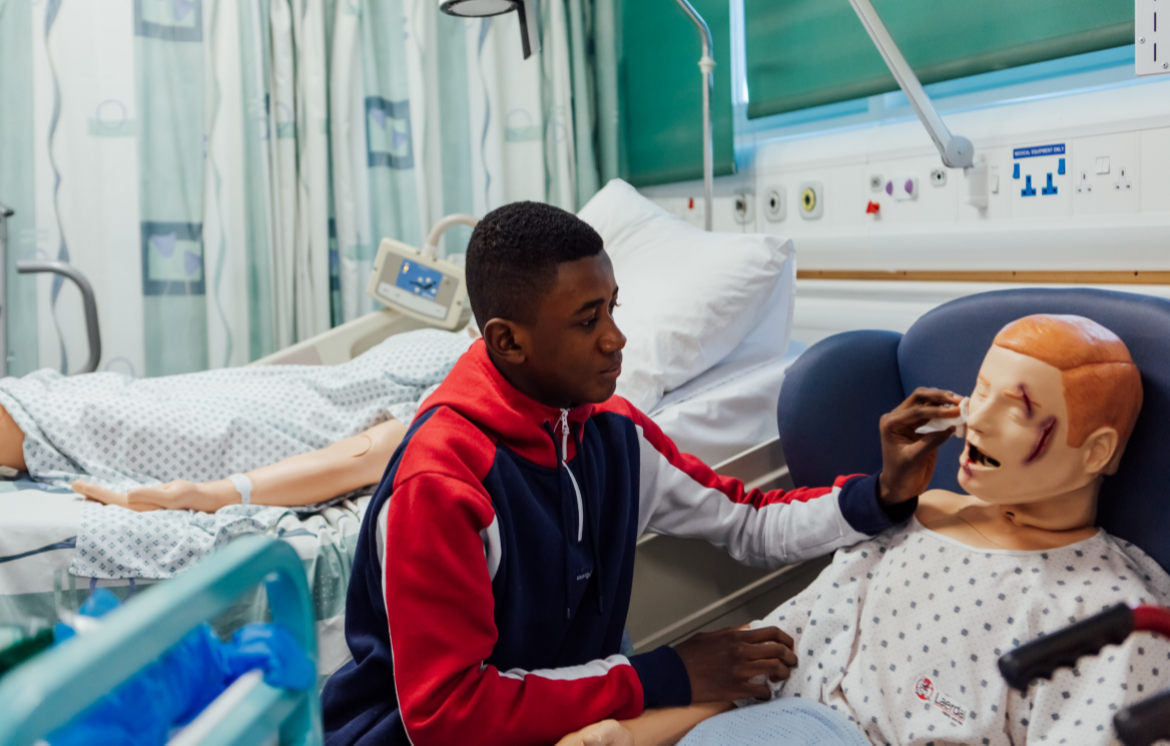 Nurse
Nurses are expert members of a medical team. They plan and deliver vital treatment for a wide range of patients with different needs and conditions, ranging from minor injuries and ailments to long-term illnesses and diseases. You'll work with different people every day, improving the lives of patients and advancing medical innovation and care. You could work in an NHS or private hospital, at a health centre, hospice, adult care home, or even in a school!
Being a nurse requires you to be compassionate, have excellent people skills, good communication and observation. Fully qualified nurses start on salaries of £24,000 rising to £30,500.
Care Worker
Care workers attend to the personal needs and comforts of the elderly and the infirm with care and support needs. Care workers help people live more independently – that could mean helping with social and physical activities, booking appointments or helping shower and dress patients.
Working with people who each have unique personalities and life-experiences can be eye-opening and lots of fun. You'll hear some wonderful stories and learn about what's important in life from people who want to pass on their wisdom.
The average salary for a care worker is between £16,000 to £18,000 a year. Carers need to be supportive, understanding and have a willingness to listen. Patience is key, it's important to have the ability to remain calm in all situations.
Midwife
If you love the idea of being there to support someone through every stage of their pregnancy, then being a midwife could be the ideal career in health for you.
As a midwife you will be supporting the mother before, during, and after the birth of their child. You will be carrying out clinical examinations as well as general support and guidance throughout the pregnancy. Once baby has been delivered midwives continue their support, helping parents adapt to their new roles and work with other healthcare services to check the new baby and mothers' health and wellbeing.
The average salary for a midwife is £37,301 per year. A role as a midwife requires you to have excellent team working and communication skills, good observation and the ability to act on your own initiative.
If you're looking to take the first steps in your career path, why not attend our sector-specific Open Day? There will be opportunities available to speak to tutors and have a chat about what each course involves, whilst also being able to take part in interactive live lessons and taster activities!
Mental Health Nurse
Mental health nurses build trusting relationships with their patients and provide vital support and treatment to people experiencing a wide range of mental health conditions, so that they can lead happy and healthy lives.
Around one in four people in the UK will have a mental health illness at some point in their life, which can affect their relationships, physical health, and ability to enjoy life. To be a mental health nurse, you need to be adaptable and good at listening, communicating, and solving problems.
Your personality and communication skills are crucial components of being a mental health nurse. You'll need a strong knowledge of mental health conditions and how to apply it in practice, good observational skills and the ability to problem solve. Salaries for newly qualified nurses range from £24,907 to £30,615.
Working in mental health is challenging, but it's a vital role where you'll make a real difference to people's lives!
Occupational Therapist
Occupational therapists provide practical support to help people overcome barriers caused by illness, disabilities, ageing or accidents that are preventing them from having an independent life.
As an occupational therapist, you will help patients regain movement and independence by finding practical solutions, such as supporting them through learning to use specialist equipment, or coming up with life-changing alterations to their environment. You'll empower people to carry out everyday tasks or occupations with more confidence and independence in order to improve their health, quality of life and wellbeing.
The average occupational therapist salary is £30,486. Successful occupational therapists generally have great interpersonal, organisation, and communication skills. They are compassionate and have the ability to think outside the box when solving problems.
Click here to access our health and social care study programmes.
If these careers in health inspire you, visit our sector-specific Open Day for health, education and care on Thursday 24th February 2022, 4pm – 7pm at our City Campus to find out more. Book your place here: www.sheffcol.ac.uk/open-days