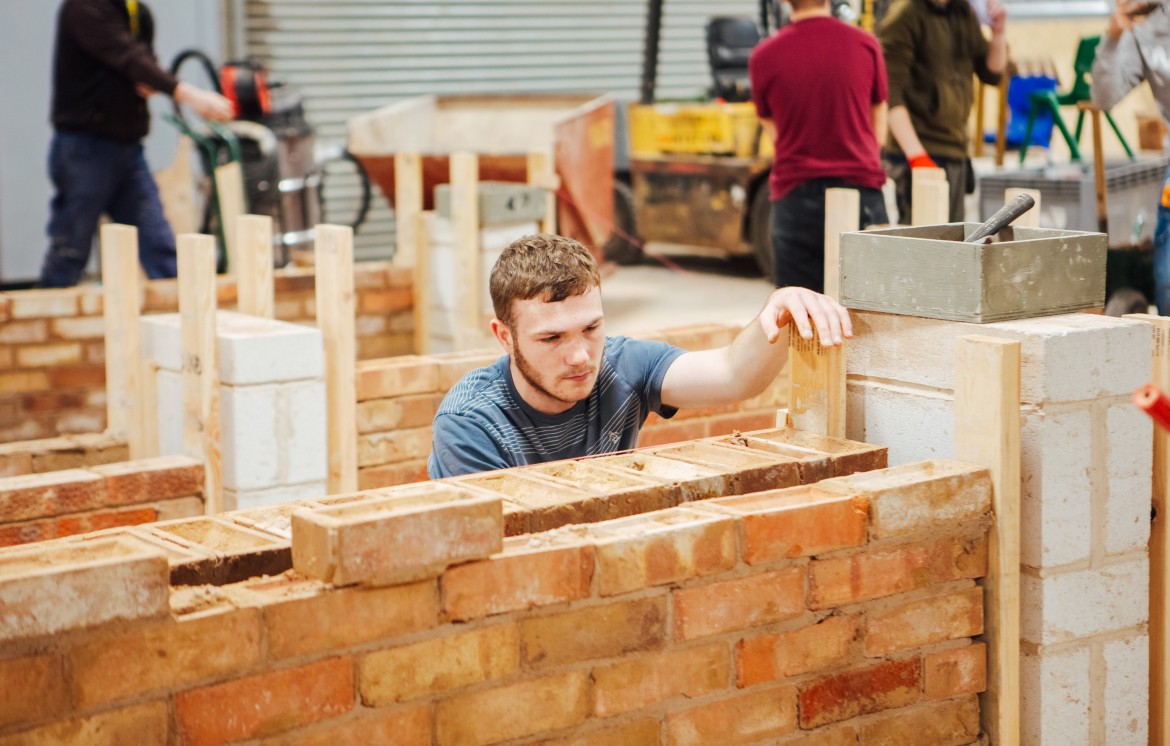 At The Sheffield College we offer a variety of Construction and Building Trade study programmes which will equip you with the skills for a successful career in industry.
Here are 5 things you should know about studying construction at The Sheffield College:
1. Study alll the way to degree level
Not only can you apply for our construction study programmes or Apprenticeship vacancies as soon as your finish school, but you will also have the opportunity to keep progressing your studies with us until you have achieved a degree! No matter what your starting point is, we will have the perfect qualification for you; helping your develop the skills that you need for successful employment or university level.
2. Learn from the best industry professionals around
Many of our Tutors worked in the industry before making the jump into teaching the next generation. In fact, some of our Tutors still work in the industry now, owning their own busineses as well as teaching.
What does that mean for you, though? Well, it means that they all have invaluable skills, knowledge and experience which is just perfect for you to learn from. They know what it takes to make it in the industry, what you need to do to get work experience, how to resolve certain issues when working on the job and how to speak with customers.
It all means that there is nobody better your career development, or helping you with advice for finding an Apprenticeship, employment or university, than our Tutors.
3. You will be learning in industry-standard facilities
Our custom-built facilities are what really sets our construction qualifications apart.
We're so proud of our workshops and are constantly updating the spaces so that they have the latest equipment and machinery, and create a replica of your future working enviroments.
We have dedicated spaces for all of the key construction trades, including: carpentry and joinery workshops (with enough floor space for life-size projects!), bricklaying workshop with individual work stations, painting and decorating studio with individual work stations, a fully-fitted plumbing workshop, and a brand-new electrical installation workshop.
By training in our replica workshops, you will feel at home in any working enviroment future - be it on site or in someone's house - once you've qualified.
4. Work on live briefs set by local businesses
Seeing as many of our Tutors have worked in the construction sector, we have a lot of connections with local businesses and employers in the industry. This means that you'll have plenty of opportunities to interact with those people who might be looking to hire you in the future! These interactions could take the form of a live project brief, which will mirror actually working in industry and allow you to develop the skills you have been learning in the workshop.
We also work really closely with Kier who offer our students unique opportunities in the industry through our Employer Skills Academy. Click here to find out more!
5. Gain work experience whilst studying
At The Sheffield College, we know that work experience is vital in helping you to fully understand what you've been learning in the classroom and in making you stand out from the crowd when it comes to applying for jobs.
All of our study programmes in this area contain an element of practical work experience, and our tutors also aim to introduce students to the workplace through study visits to local construction projects. You can also contact our Industry Placements Team who can assist you with finding a local employer to facilitate your placement.
Our Industry Placements Team has also recently launched their Virtual Reality Placement programme which allows students to take virtual tours of workplaces and also experience masterclasses and workshops with a range of local employers.
What to do next?
Now that you've found out about some of the fantastic reasons to study construction and building trades at The Sheffield College, it's time to apply!
We still have places on our qualifications starting in September 2022 so there really is no time to waste.
To find out more visit, http://sheffcol.ac.uk/subject-areas/construction-and-building-trades or click here to apply