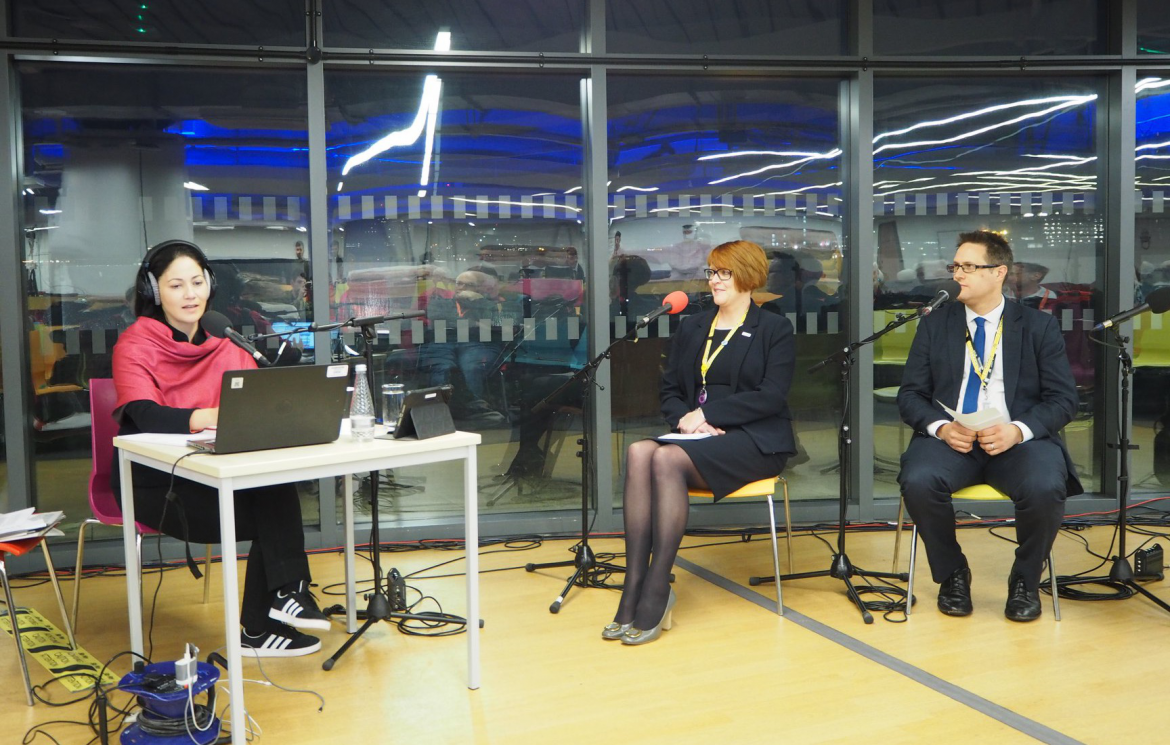 It is the first time that the flagship news and current affairs programme has broadcast live from a further education college.
Presented by Mishal Husain at the College's City Campus, the programme on November 20th discussed the funding and impact of the further education sector.
The Today programme is currently broadcasting in front of live audiences across the UK in the run up to the general election on December 12th.
Angela Foulkes, Chief Executive and Principal, The Sheffield College, said: "We are delighted to be the first further education college to have hosted the programme."
She added: "It was a great opportunity to shine a light on the further education sector, and our fantastic students and staff, and celebrate the impact of colleges in transforming lives."
During the programme, Angela Foulkes told listeners that further education colleges in England educate and train more than 2.5 million people a year and need to see real, sustained, funding commitments from the next government.
Dr Philip Augar, who chaired the independent Review of Post-18 Education and Funding, also attended the College to be interviewed.
The Augar Review report, published this year, highlights the social, economic and individual benefits of colleges and calls for a reforming and refunding of FE to address years of neglect.
Speaking to presenter Mishal Husain, Dr Philip Augar said: "I very much welcome the fact that you are holding your programme from a further education college. These colleges do an absolutely amazing job at educating young people and adults."
He continued: "The problem is that they are seriously under-resourced. Just look at a few numbers. Adults doing further education receive about a tenth of the funding per head compared to young people and adults going through universities."
Dr Augar added: "The panel's view is that this simply has to be addressed as a matter of … social justice but also as a matter of economic imperative as a way of addressing the skills gap in this country… which in turn feeds into the whole economy. This is about the reforming and refunding of the FE sector in a way that will lay the foundations for a properly balanced economy."
As well as discussing national funding issues, Mishal Husain interviewed journalism, media production and nursing access course students about their ambitions for the future, and asked them about wider issues including the general election and the environment.
Carpentry and joinery apprentices discussed why they had chosen to study an apprenticeship and the benefits of doing so, and their career hopes, during pre-recorded interviews aired during the programme.
The programme also included interviews with politicians Layla Moran, the Liberal Democrats candidate, and Dominic Raab, the Conservative Party candidate.
The programme is online for another 22 days. Timestamps:
R4 puzzle by A Level maths lecturer Paul Salmons, read by Robin Webber-Jones, Vice Principal of Academic Studies and Higher Education: 50.52 mins
Interview with Angela Foulkes, Chief Executive and Principal: 51.00 mins
Interview with journalism and media production students: 1:20 mins
Interviews with carpentry and joinery apprentices; and Philip Augar: 1:34 mins
Interviews with access to nursing students: 2:39 mins
To listen again, visit: https://www.bbc.co.uk/programmes/m000bfrr