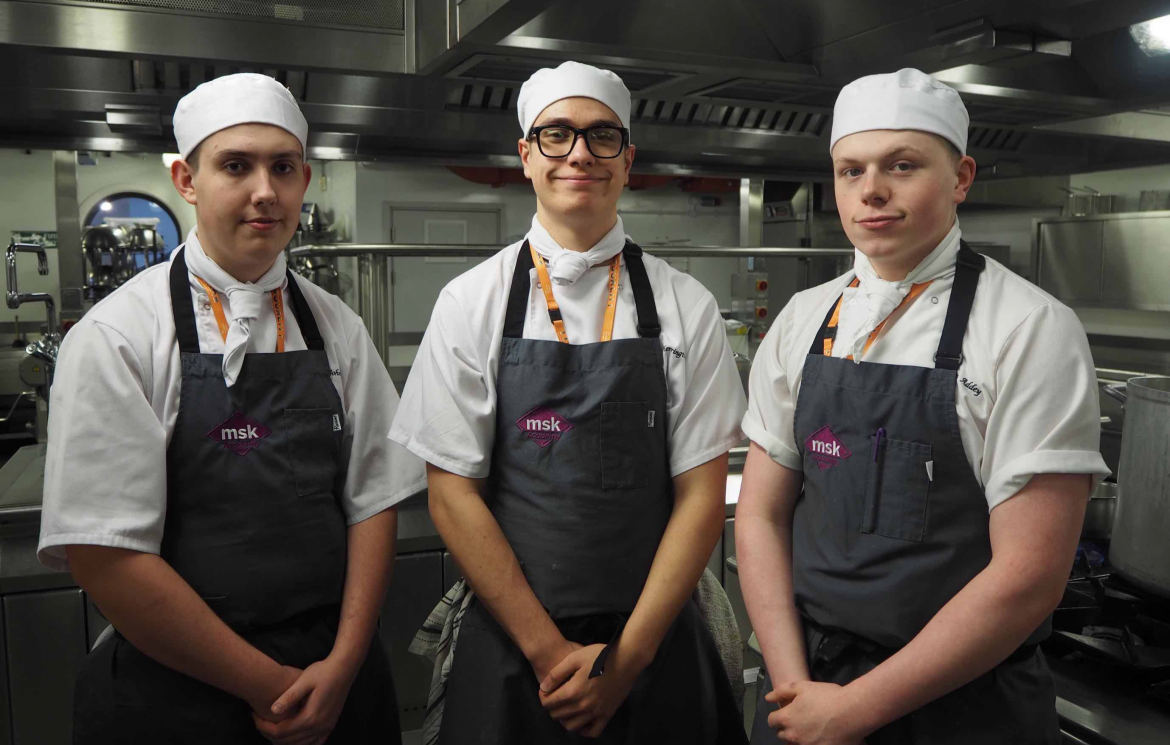 Three of the College's trainee chefs Connor Johnson, Oliver Herrington and Ben Addy, all aged 18, will compete in Zest Quest Asia next month.
Competitors will showcase their skills, knowledge and cooking techniques in a range of Asian cuisines in a live cook off on February 7th.
The finals will be held at Mr Todiwala's Kitchen, the signature restaurant of gold sponsor Hilton London Heathrow Airport Terminal 5.
Andrew Gabbitas, Catering Lecturer, The Sheffield College, who is mentoring the team, said: "I'm really proud of our students. This is a very prestigious competition supported by one of the country's leading chefs. Taking part will enhance our students' skills and industry contacts, and help them go further in their career."
The students are completing the Professional Chef's Diploma at Level 3 at the College's City Campus on Granville Road.
Catering student Oliver Herrington, aged 18, said: "It's a real honour for us to represent the College. It'll be my first competition and I feel nervous as well as excited about taking part. It's been an interesting process researching Asian food, creating a menu and testing the dishes."
He added: "I'm really enjoying my college course and my ambition is to run my own restaurant. I've been interested in cooking from the age of six after I watched the film Ratatouille!"
The winners will be announced at a gala dinner on February 7th. The prize is a seven-day cultural visit to an Asian destination. Previous winners have visited India, Sri Lanka, Thailand, Japan, Vietnam and the Philippines.
Zest Quest Asia was set up by restaurateurs Cyrus and Pervin Todiwala, with the support of The Master Chefs of Great Britain, to recognise outstanding talent, knowledge and understanding of Asian cuisine.
The Sheffield College is one of six teams to get through. The other teams taking part are Loughborough College, New City College, North Hertfordshire College, University College Birmingham and the University of West London.
Cyrus Todiwala said: "Narrowing down the entries to a shortlist of six is always a challenge because we're conscious of the effort and resources invested in each entry. Because of this, and the fact that many Asian cuisines and cooking styles remain a mystery to college students, I believe everyone who chose to participate deserves the highest praise."
He continued: "Congratulations to the six colleges that came through and we very much look forward to great things from you in February. As long as you focus on key areas such as flavour, technique, the use of ingredients, sustainability and presentation, and can prove your knowledge and understanding behind your chosen menus, you can't go wrong. Very well done so far!'
For more information about courses at The Sheffield College, and the next open days on January 28th and March 9th, click here or call 0114 2602600.