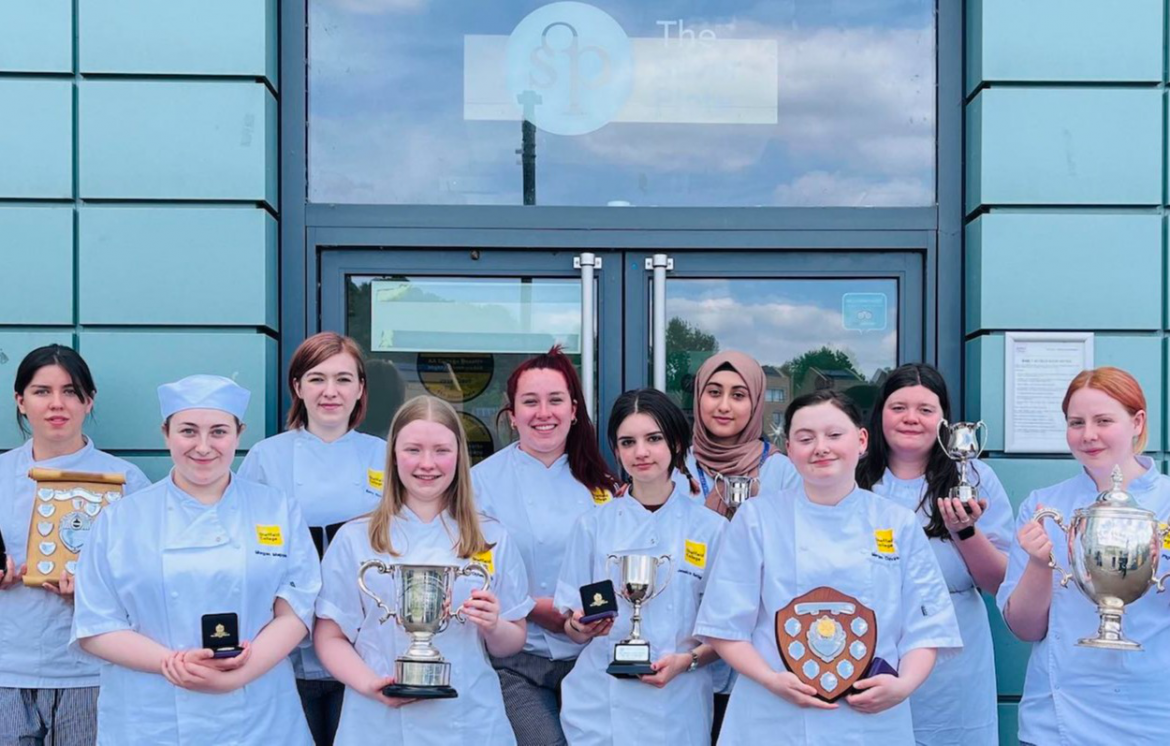 Bakery students at The Sheffield College have won a haul of industry awards.
The College's trainee bakers won eight gold, seven silver and eight bronze awards in the annual Alliance for Bakery Students and Trainees (ABST) 2022 competitions.
Students get to develop their professional and team working skills by taking part in a wide range of competition categories. The categories include bloomers, cob, rolls and tin loaf bread as well as confectionary, cupcakes, floral sugar craft, madeira cake, puff pastry, scones and wedding cakes.
Steven Salt, Head of Bakery, The Sheffield College, said: "It was great to get back to in person competitions this year and to see our students do so well."
He added: "The ABST competitions provide students with a brilliant opportunity to meet their peers as well as industry professionals and develop the knowledge and skills that will help them go further in their careers."
Student Ophelia Tilly, 19, said: "The competitions were exciting and challenging and provided an opportunity to develop my skills to perfect each product. I enjoyed the chance to meet new people and gain industry knowledge."
Ophelia is completing a Foundation Degree in Bakery and Patisserie Technology and her ambition is to travel and learn about independent bakeries and patisseries in Europe with a view to opening her own bakery.
She added: "Bakery is my passion and has been for as long as I can remember. The experience I have had at the College has been great. The tutors and staff are all lovely and have helped me with my studies.
"I am really enjoying the course, it has been challenging but the hard work has paid off with the results that I have achieved. I really enjoy making products that use laminated dough such as croissants, pain au chocolat and Danish pastries."
Student Isabel Piggot, 18, said: "It was great taking part in the ABST competitions this year; it was my first year attending so it was very exciting! It is nerve wracking but also extremely rewarding as you receive lots of feedback from the judges."
She explained: "Their feedback was so helpful. I know how to improve my products. I am so grateful I managed to come first in two competitions and placed third in another one! It was such a valuable experience."
Isabel is completing a Professional Bakery Diploma at Level 2. Her ambition is to complete the Level 3 qualification and then progress to a degree. She would like to work abroad to learn about different international bakery techniques and products.
Isabel said: "I think of bakery as an art form. It is extremely creative. Patisserie for me is showing off that creativity and showing people what you can achieve with food."
She added: "My experience at the College has been great. I have had support from tutors and students to push myself and it's great we all help one another. I've made great friends this year and we are all excited to progress next year."
For more details about all of the winning students and competition categories, please visit the ABST website.
The competitions were held during the ABST national conference, which took place from June 10th until 12th 2022 at Alton Towers.
Find our more about our courses starting in September.