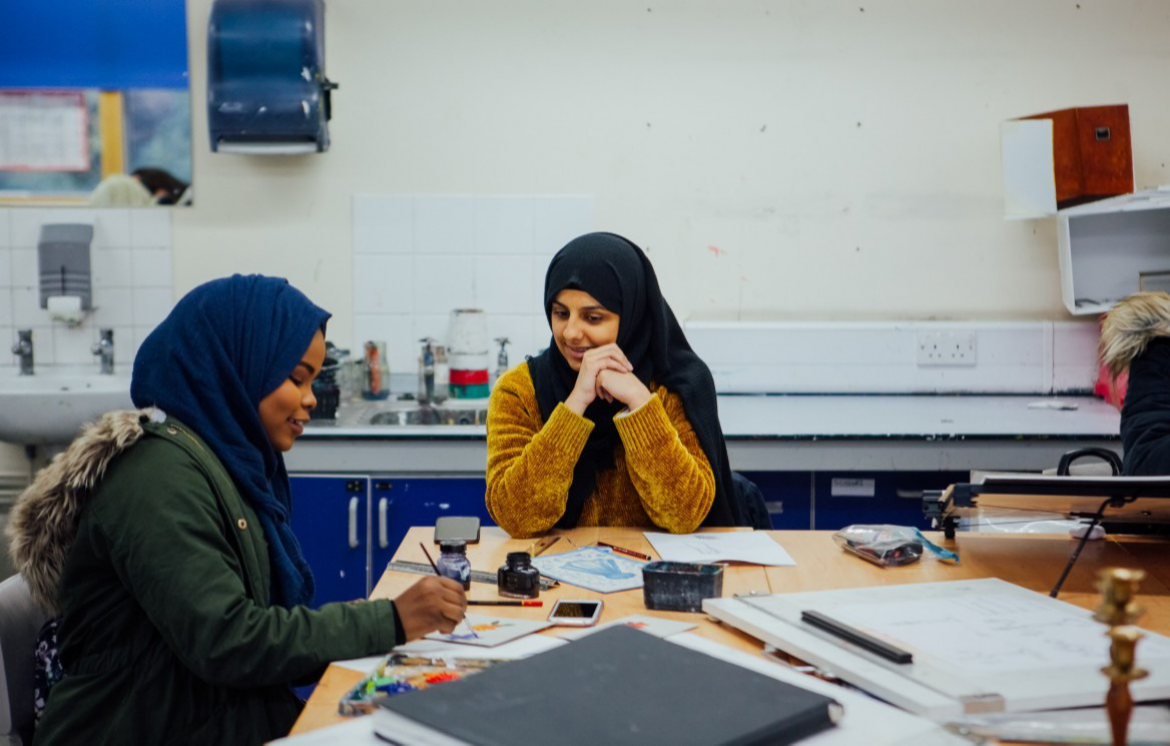 The UK creative industries sector is growing at a rapid rate and contributes almost a whopping £13 million to the UK economy every hour. It's one of the most diverse sectors covering creative jobs such as web designing, photography, writing and acting.
If you are looking to start a career in an industry where your creativity is encouraged and rewarded, then this is the perfect sector for you. Creative jobs provide an environment that encourages fresh ideas to be developed and allows you to have an interesting and varied career, always taking on different, fun and challenging projects.
Wherever you are on your creative journey, we're here to help you take the next step. Take a look below to find out how we can prepare you for your dream career:
Industry-standard facilities to help you find your style
Developing your creative style and experimenting with different mediums and art forms is essential for anybody wishing to pursue a job in the creative industries. Whether your passion is textiles and fashion, graphic design, architecture, or product development, we've got the facilities that'll let you go further.
Hillsborough Campus is our creative hub, housing custom-built facilities, including Mac design suites, art studios, industry-standard games design software and workshops where you can try your hand at screen-printing, metalwork, pottery and much more, so that you can learn new techniques and develop your creative style.
If you think a career in the creative industry might be the next step for you, why not attend our next sector-specific Open Day? Our Creative and Design Open Day will include interactive live lessons, engaging taster activities and demonstrations of each subject area, to show you exactly what each study programme has to offer. You can find out more here.
Develop professional relationships and connections
Throughout your study programme we will give you as many opportunities as possible to work with industry professionals so that when you come to look for creative jobs, you have connections in place already.
As a student at The Sheffield College, you'll get the opportunity to work on live design projects set by local businesses to prepare them for the world of work – something employers love to see on your CV. Our tutors can also support you in finding a work placement in your chosen career so you can get a taste of what the job is like.
Get taught by tutors with expert industry insight
All of our tutors are passionate about their specialisms and most of them have worked in their chosen industries for many years, which means they have the experience required to offer you the best support and guidance when it comes to careers.
Our tutors will share their in-depth knowledge and experience of the creative sectors, they'll show you how to make the most of industry contacts, look for placement opportunities and give you that inside knowledge that will set you apart from the crowd once you start to search for your dream creative job.
Gain valuable careers advice
At The Sheffield College, we have a dedicated Careers Advice Service who are on hand to help you achieve your dream creative job by providing guidance and resources, as well as hosting careers events throughout the year.
The Careers advice team are also on hand to advise you of any free training or courses that become available that could help further your career. You can find out more about the support available and how they can help you with your career planning here. There will be opportunities available at our Open Day to speak to our job experts about careers you're interested in and what you need to do to get there.
Attain the skills you'll need in the real world
Whether you'll be working on a live project brief that has been set by a local employer or taking part in a masterclass or workshop delivered by industry professionals – we want to give you as many opportunities as possible to set you up with the skills you'll need to enter the job market.
You'll also get to showcase your work in our end of year show, visited by design agencies and other local employers – the perfect opportunity to land yourself that creative job or university place. Many of our former students have been headhunted through the exhibition, so it really is an amazing way to launch your career!
Take a look at some of our previous students' work for our Creative and Design Virtual Exhibition here.
To find out more about the programmes we have on offer, the facilities you'll learn in and the support that you'll receive from The Sheffield College to help you achieve your dream creative job, join us at our Creative and Design Open Day.