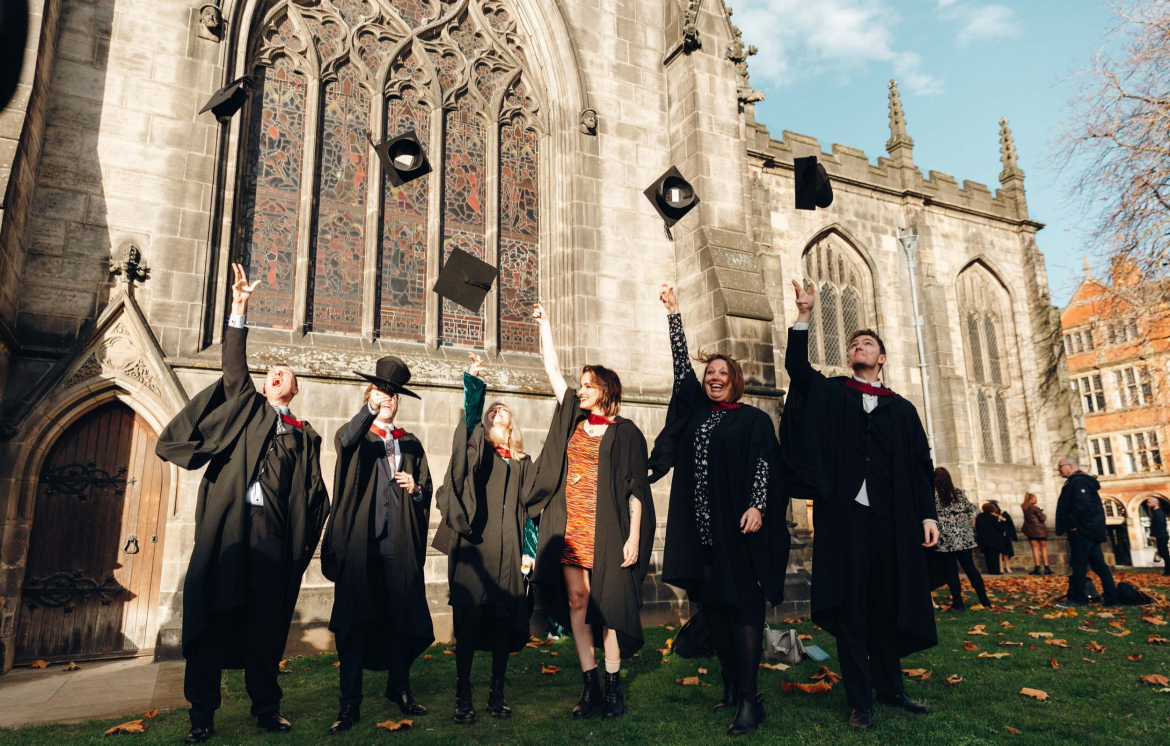 If you've still not made plans for September, now is the time to get your university dreams back on track!
Here's how to get the most out of the rest of the year:
1. GET THE SKILLS YOU NEED FOR THE CAREER YOU WANT
Every single one of our university level programmes is designed to make you not just employable, but a standout candidate in your field. We want all of our graduates to feel ready to step straight from the classroom into the world of work, and our range of practical and hands-on university level qualifications are designed to do just that!
You can choose the type of qualification that suits you and your learning style, and whether that's a foundation degree or a HNC, you can be sure that you'll be learning the most up-to-date subject matter and vital skills that you'll need for the career of your dreams.
All of our university level tutors are highly trained specialist, so you can feel confident that you're learning from the very best. Not only are they highly experienced, but having worked in their chosen fields before entering education, many of them have amazing industry contacts, so you can start building a network of connections from day one. Why not visit our website to begin exploring the qualifications we have on offer?
2. GET USED TO LEARNING IN INDUSTRY-STANDARD FACILITIES
Part of getting you career-ready is making sure that you can walk straight into a professional environment and feel confident in using the tools of the trade. Luckily, we've got the top-class facilities to do just that.
Our specialist university level facilities include:
industry-standard catering and development kitchens (including specialist equipment for bakery, patisserie and chocolate work)
fully equipped dental technology labs
a professional standard theatre space (plus several drama studios and rehearsal rooms!)
top-spec music technology suites, recording studios and editing rooms
professionally kitted TV and photography studios, dark rooms and photo editing suites
state-of-the-art engineering and construction facilities and machinery
top-of-the-range IT and robotics suites
professional standard media make-up studios
fully equipped sports leisure centre, sports hall and 3G sports pitches
dedicated facilities for live animal-handling
university level specific study spaces, including our fully-stocked Learning Resource Centres and common rooms
We can't wait to invite you in to view our facilities in person, but in the meantime, why not use our virtual 360 tours to take a look around.
3. EMBRACE STUDENT LIFE
There's so much more to being a student than just studying!
As a student with us, you'll be able to:
attend Freshers' Fair and access student discounts
celebrate your achievements at our graduation
graduate with degrees accredited by top university partners
meet like-minded people in one of our clubs or societies
live in student accommodation
join our Students' Union to campaign and influence on local, national and international issues that concern you and your student community
get fit, take part in activities, and compete for our BUCS sports teams
Visit our student life webpage to find out more.
4. MAKE YOUR MONEY GO FURTHER
We know that going to university can be a huge financial commitment, but doing a university level qualification at The Sheffield College is one of the smartest decisions you can make when it comes to any future student debt!
Not only are our fees cheaper than other traditional universities, but we've also got tonnes of financial support available for our HE students! In addition to a student loan, we may be able to help support you with:
student support funds and bursaries (which can be put towards essential books, equipment or study visits)
travel costs
childcare
Disabled Student's Allowances
Our dedicated Student Support Team can help you to figure out the most appropriate type of assistance and support you with your application - click here to find out more about how we can help you.
5. ACCESS THE SUPPORT AND GUIDANCE YOU NEED TO SUCCEED
Because our class sizes are far smaller than at some universities, you'll receive more contact time with your tutor plus one-to-one support, allowing you to achieve the best degree possible.
As a university level student, we can offer support both with your academic work, and with matters of a personal nature.
We have dedicated HE Tutorial Mentors on hand to help you excel academically. They can help you with research and finding appropriate resources, mastering academic writing styles and even referencing (an essential skill for any university student!).
Our Student Support Team, Tutorial Mentor and Careers Team are dedicated experts who can help you with:
You can find out more about the support available here.
We also have a dedicated Careers Advice Service who will be on hand to help you achieve your dream career by providing guidance and resources, as well as hosting careers events and even 1-2-1 appointments throughout the year. The Careers Advice Team will also be on hand to advise you of any free training or courses that become available that could help further your career!
NEXT STEPS
We want to make achieving your career goals as simple as possible! This is your time, and this is your career.
To get started on your career journey, why not explore our university level study programmes -
If you still have any questions, please contact our Admissions Team for further support:
Email: admissions@sheffcol.ac.uk
Telephone: 0114 260 2600