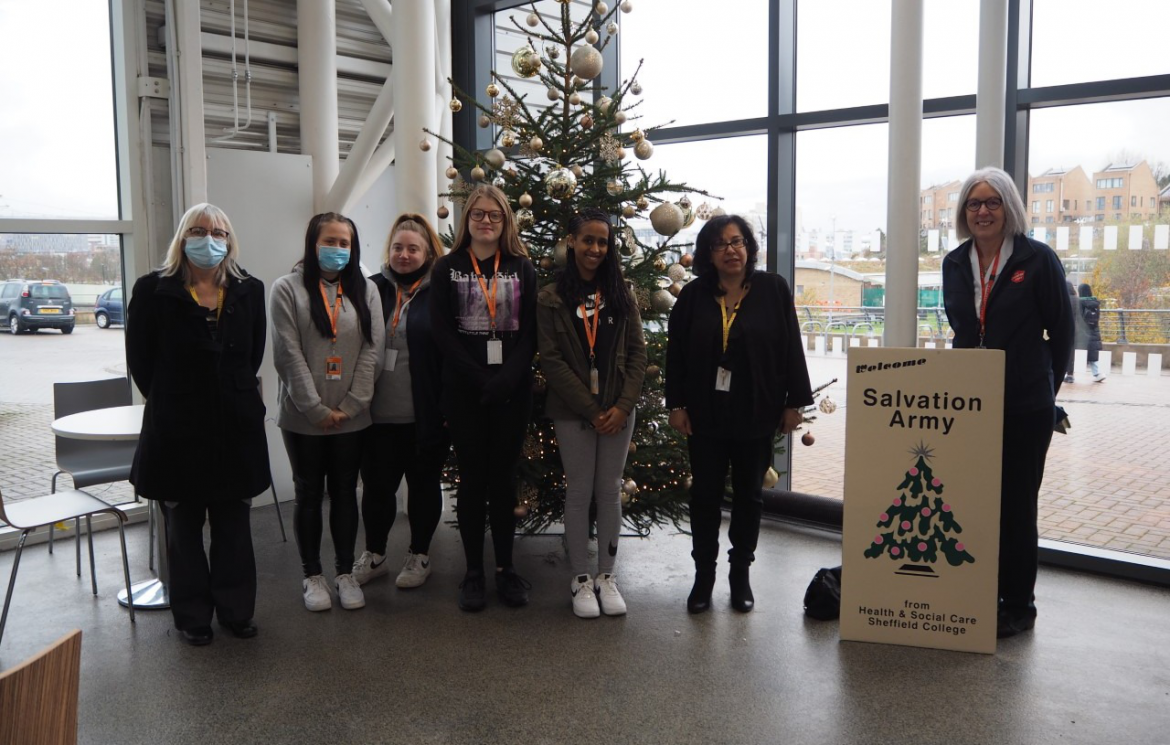 Health and social care students at The Sheffield College have lent a helping hand to a local charity Christmas appeal that supports people who are vulnerable.
A group of health and social care students have made 12 Christmas hampers for the Salvation Army.
Containing toiletries, food and children's gifts, the hampers were presented to the charity at the College's City campus on Granville Road, this month.
Ozmah Khan, Course Leader for Level 1 Health and Social Care, The Sheffield College, said: "We are pleased to support those in our wider community by donating food, toiletries and presents to families and individuals who are vulnerable, particularly given the impact of the pandemic."
She added: "As part of their course, students learn about the vital role that the voluntary sector plays in local communities. They were inspired to give something back in recognition of the fact that the festive season can bring additional hardship to people who are vulnerable."
Student Libbi Mae-Clark said: "We have covered homelessness and the work that charities do to support others and we have also looked at kindness. Making the hampers was one practical way of embracing that and helping vulnerable people at Christmas time. The college course is helping to prepare me for my future career in health and social care."
Cadet Diane Johnson, of the Salvation Army's Sheffield Castle Corps, commented: "It was great to meet the students at The Sheffield College. What a wonderful example they are of caring young people who want to make a difference for others this Christmas. They are a real credit to the College and their families."
She added: "The gifts that they have collected and donated will go to those in need in the Sheffield Castle area. We are supporting people through our charity shop, food bank and local primary school as well as those referred by external agencies.
"Christmas is the busiest time of the year, but it is also the time that gives me and our volunteers the most joy as we see the difference that a small gift can make."
Find out more about our courses starting in September 2022 and our next open days.