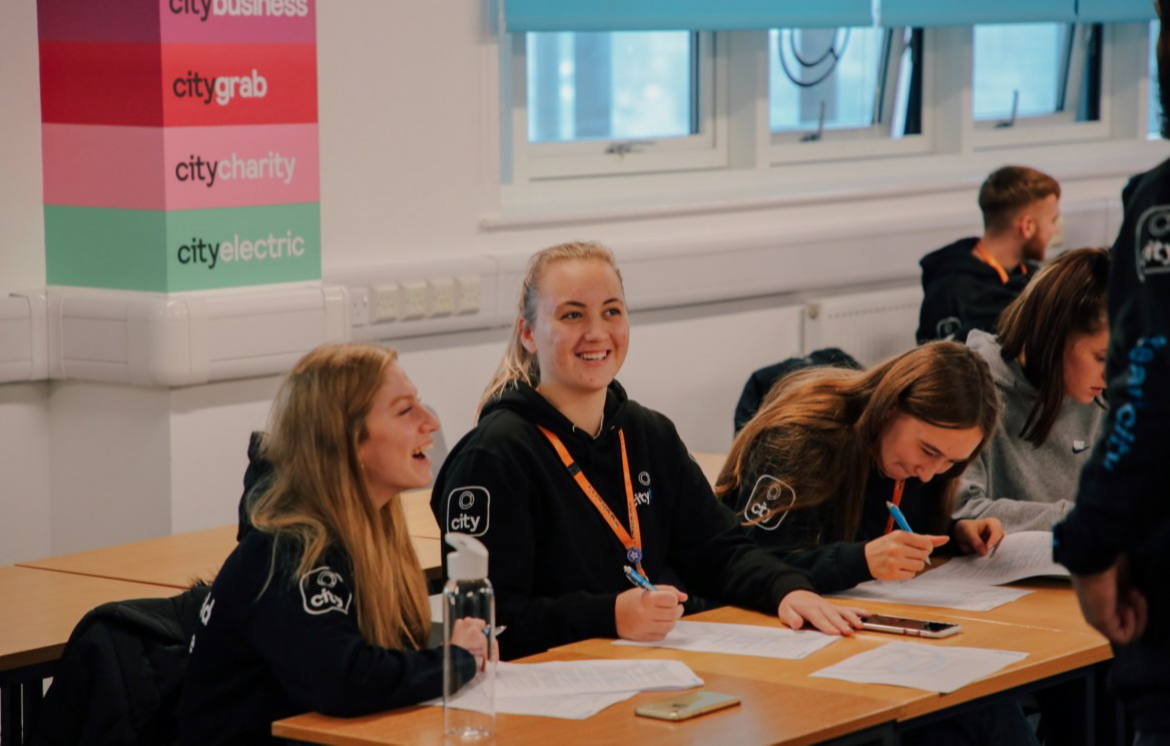 A personal development plan is just one of the ingenious ways that you can make sure you're continually improving your knowledge, skills, and experience in multiple aspects of your life. They are primarily used in work and education settings, but can just as easily be applied to your personal life and aspirations. Putting together your personal development plan comes with a multitude of benefits too, not least the improvement to your mental health as you offer yourself focus, a sense of purpose, and a boost of confidence.
By perfecting your personal development plan, you'll identify your strengths and weaknesses, set clear goals, and ultimately, improve your employability and increase your motivation.
Set yourself goals
The first thing when you're putting together your personal development plan is to figure out what your long term goals are. These can then be broken down into smaller, more manageable short term goals.
Start by considering your skills and which you wish to develop, and then you can put together a series of goals for each area of improvement you've identified. When you're outlining your goals, you should always make sure they follow the SMART framework:
Specific: Your goal should align exactly with what you want to achieve or change. Don't be afraid to be detailed.
Measurable: Put a number on it. This means making your goal quantifiable and therefore it'll be easier to track your progress.
Achievable: Make sure each of your goals is not only realistic but also attainable, otherwise you simply won't have the motivation to achieve them.
Relevant: Your goals should directly relate to your overall ambitions, and each short term goal should feed into your longer term aims.
Time-bound: Each goal should have a timeframe so that you're motivated to work towards them and towards your self-set deadline.
Personal development plans can relate to emotional goals (such as journalling or going to counselling), mental goals (such as taking a class or reading an informative book), physical aims (such as your eating and sleeping habits or your exercise regime), social ambitions (such as your communication skills or learning a new language), and spiritual goals (such as focusing on meditation or taking more mindful walks). All of these things can contribute to both personal and professional growth, through improving focus and self-confidence, as well as your skillset.
Once you have your SMART goals set, create yourself a daily, weekly, or monthly routine in which you set aside time to work on your personal development plan, and your carefully considered goals. Start with carrying out the tasks you've set yourself within each goal, and always make sure to acknowledge any new skills that you notice yourself developing on the way to ticking off your targets.
Recognise your strengths and weaknesses
Once you have your goals in place, it's important to identify the strengths and weaknesses you possess that have the potential to help or hinder your progress. For your strengths, consider where your talents lie, what assets or resources you possess that others may not, and any achievements that you're particularly proud of. For your weaknesses, try and identify which skills you struggle to develop, what usually holds you back from progressing, and which of your bad habits could hinder your progression. You could also make note of which areas you need to improve and in which areas your confidence is lacking.
By doing this exercise, you'll highlight how your strengths will help you to achieve your goals, and where exactly you need to develop in order to overcome any obstacles that may stand in your way.
Recognise threats and opportunities
In addition to identifying your strengths and weaknesses, it's just as important to outline any threats to your success as well as opportunities you can take advantage of. Your threats could include anything that has the potential to hinder your success, such as your finances, your competition, or the weaknesses you've already identified. It's also worth considering any external factors that could affect your progress outside of your control.
There are many things to consider for the opportunities that could be available to you. It could include the projects you could set yourself to work towards your goals, connections you could make or people you could talk to to learn more about your chosen area of expertise, and where others might be going wrong in your chosen field. You may need to do a little research to discover which aspects of your chosen industry might be in more of a promising or thriving position, or whether there's a niche that's currently not tapped into.
Completing this exercise will allow you to outline where your personal development plan could go wrong, so that you can prevent that from happening, all whilst setting yourself up for further success by highlighting areas of opportunity that you can take advantage of.
Develop your skills or increase your knowledge
Once your goals, strengths, weaknesses, threats, and opportunities are aligned and make sense alongside one another, it's time to start making things happen. Research the ways you can upskill yourself in the areas you've identified, list some people who might be able to help you, whether it's someone from your field, a friend, or an external advisor, and work out which resources you need to achieve the goals you've set.
Consider enrolling on a course, upskilling online or through books, and even volunteering to give yourself the skills you need to get to your goals. You can also ask for more responsibility and new projects at work or at college to challenge yourself and realise just how much you are capable of.
Here at The Sheffield College, our upcoming sector-specific Open Days will enable you to choose a course that'll fit perfectly within your personal development plan.
Measure your progress
As you work through your goals and tick off your targets, it's important to take note of your achievements, no matter how small. Acknowledging what has gone well will boost your motivation as well as your confidence, encouraging you to remain dedicated to your cause and your personal development plan. What's more, recognising what hasn't gone as expected allows you to consider why it went wrong, and whether there's anything you can do to ensure it goes correctly next time.
Measuring your progress and identifying each skill you're developing will add to your sense of purpose, which will ultimately encourage you to continue making progress. It will also help you to identify your next goals and areas of improvement, making your personal development plan a continuous cycle of progression.
Your personal development plan will set you up for success in a way that makes sense to you. You'll be able to see clearly what you need to do and why in order to achieve your ambitions.