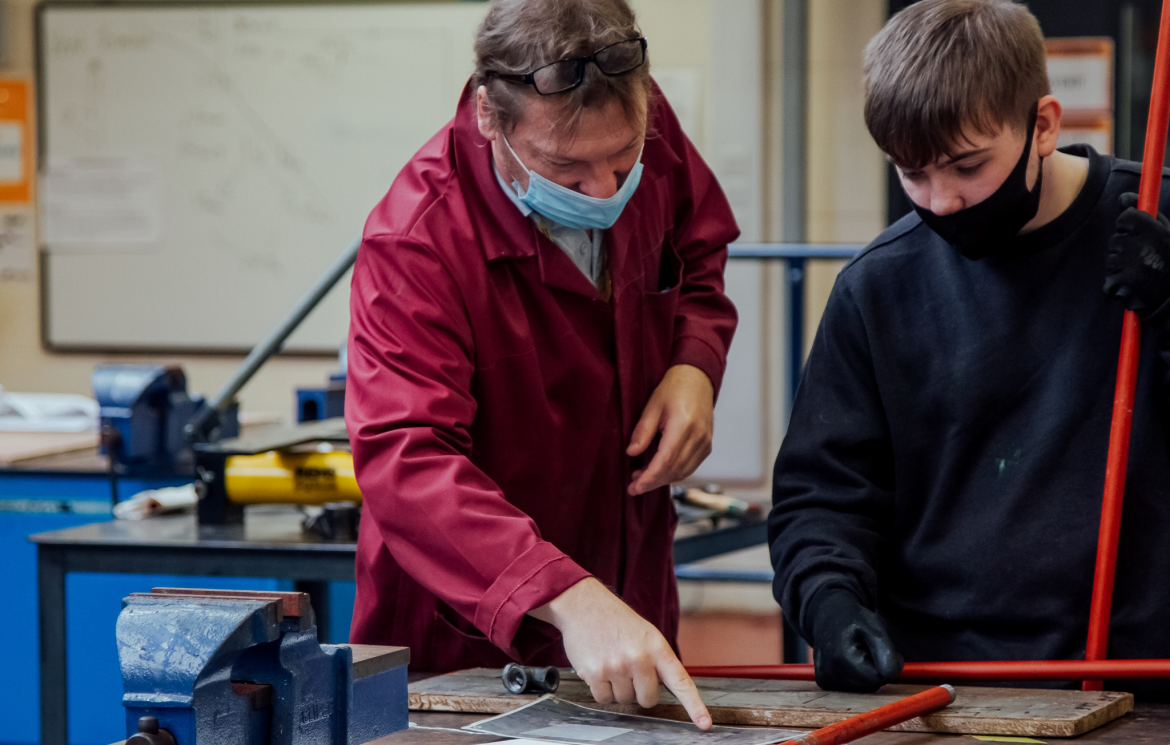 Are you an experienced and skilled professional in the construction and engineering industries, with an ambition to develop the careers of future generations and watch your industry thrive in years to come?
The Sheffield College is recruiting and training new teachers in the construction and engineering industries, as part of the government funded Taking Teaching Further programme.
If you have never trained to teach before but feel like you could make a huge difference to the futures of others just starting out, please read on to find out more about this incredible opportunity to train to teach with us!
What is Taking Teaching Further?
Launched in 2018, Taking Teaching Further (TTF) is a government funded programme that supports high-calibre, experienced industry professionals to retrain as teachers at Further Education colleges like The Sheffield College.
The programme has been designed to allow skilled professionals with an infectious passion for their industry to retrain as teachers so that they can pass on their knowledge and expertise to our students, which will enhance their learning.
If you have no prior experience of being a teacher before, TTF will provide you with an exciting opportunity to pursue a new career in teaching, helping to transform the lives and careers of our students.
Applicants will study a Level 5 Education and Training qualification and gain practical work experience.
What industries are teachers being recruited in?
At this moment in time, we are looking for skilled professionals from the following industries:
Engineering – Mechanical, Electrical, Automotive
Construction – Plumbing, Heating & Gas, Carpentry & Joinery, Brickwork, Built Environment
At The Sheffield College, we are also committed to teaching the latest and most sustainable methods in construction and engineering.
If are a highly-skilled professional in any of the above trades, we'd love to hear from you!
How much will it cost and how long will it take?
This qualification will be fully-funded by the government meaning you will not have to pay tuition fees.
Training will last for 2 years.
What's involved in retraining as a teacher?
All trainee teachers on the TTF programme at The Sheffield College will:
study a Level 5 Diploma in Education and Training over the course of 2 years
undertake classroom-based learning before putting what has been studied into action with the dedicated support of our teaching team
have lots of practical support and opportunities for work experience, including team teaching and work shadowing arrangements
start with a reduced teaching timetable to allow them to gain more experience and confidence
What support is available to trainee teachers?
One of the key details about the Taking Teaching Further programme is that tuition fees are fully-funded by the government!
We understand, however, that the cost of the programme is just one of the considerations when retraining.
With that in mind, students will have access to The Sheffield College's support opportunities, including:
in-class support
childcare
study skill support
You can find out more about them by clicking here: https://www.sheffcol.ac.uk/student-support
Why are more teachers needed?
Further Education Colleges are beginning to deliver new, two-year technical qualifications called T Levels. These qualifications, for students aged 16 – 19, will prepare students for entry into skilled employment or higher-level technical study.
To ensure that students get the best possible experience on these qualifications, we are looking to recruit industry professionals who can pass on the skills and understanding of a modern work environment and how to operate within it.
Who should apply?
The Taking Teaching Further programme is looking to recruit professionals who:
are experienced with a passion for their industry and the future of it
have worked for a minimum of 2 years in their profession and have been employed in it within the past 18 months
want to undertake a new challenge in teaching, whilst retaining and sharing existing knowledge
play a key role in transforming the lives of our students
Applicants will be expected to have Level 2 qualifications in English and Maths by the time they have completed the Taking Teaching Further programme.
When is the deadline for applications?
Applications for the current Taking Teaching Further programme are now open.
The deadline for applications is December 2022.
How can I find out more?
Interested but need to find out about more before you decide to apply?
Join us for our information event on Wednesday 6th July, 5pm – 6:00pm
The event will be hosted at:
The Silver Plate Restaurant,
The Sheffield College,
Granville Road,
Sheffield,
S2 2RL
Refreshments will be available.