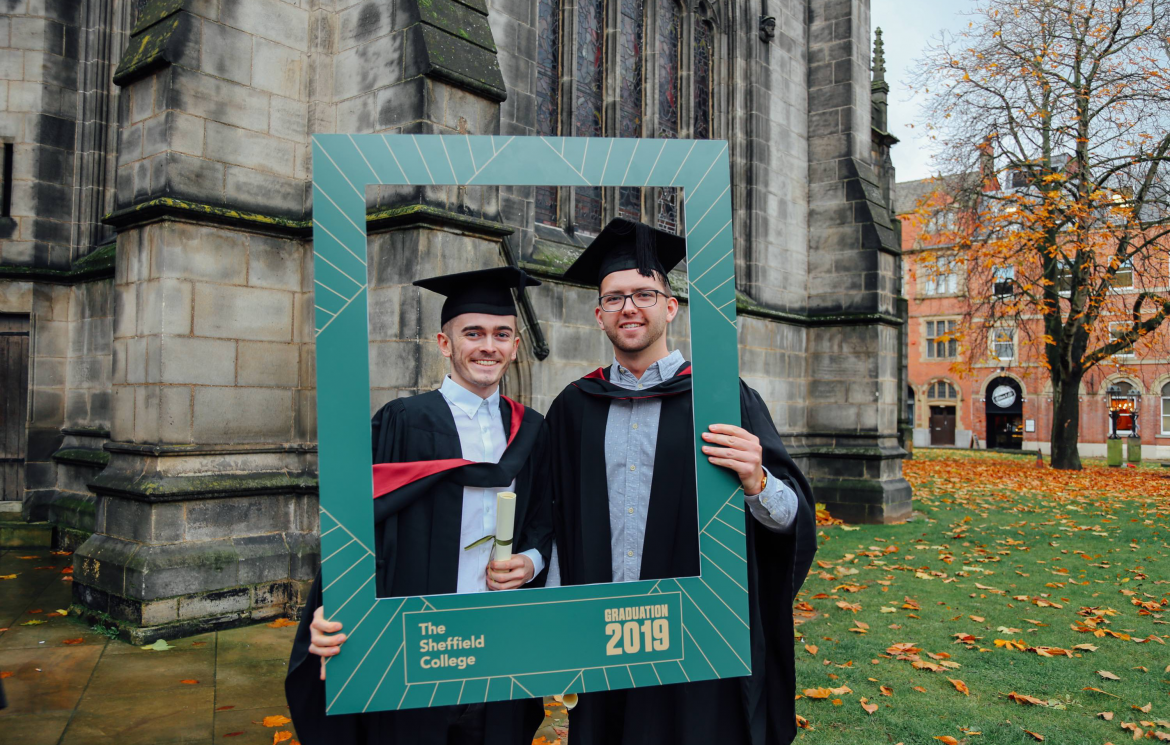 Around 350 graduates, accompanied by families and friends, were presented with their scrolls at a high profile ceremony at Sheffield Cathedral.
The annual celebration marks the achievements of students who have successfully completed a range of university level qualifications including higher apprenticeships.
Angela Foulkes, Chief Executive and Principal, The Sheffield College, said: "I'm really proud of our students and wish them every success as they go further in their careers. Our university level courses combine academic knowledge with the industry skills that employers need."
Amongst those graduating was Jacob Jeffcock, 20, the youngest student to graduate after completing a Foundation Degree in Graphic Design at Hillsborough Campus.
As part of an annual tradition, Jacob rang a bell to mark the closing of the ceremony.
Jacob said: "Being the youngest student at graduation, and the opportunity of ringing the bell, was a real honour."
Jacob is now studying for another year at the College, so that he gains an honours degree.
He explained: "I decided to study here for a variety of reasons. I'm familiar with the College and the tutors and, due to the smaller class sizes, I have personalised support opportunities. The course is also cheaper than going to university."
Jacob added: "The course sets me up perfectly for employment with chances of internships alongside my studies. Some projects are also set by design companies allowing me to work on live briefs. I hope to gain a job in a design agency, preferably in Sheffield, once I finish my course."
This year's event, on November 15th, involved keynote speakers, Dr Shqiperim Reka and Dean Cotton, who are both college alumni.
Dr Shqiperim Reka studied a Foundation Degree in Travel and Tourism at the College and is now a Lecturer in Tourism Management at Sheffield Hallam University.
Shqiperim arrived in Sheffield as a teenage refugee with his family from Kosovo and has since completed a Masters Degree and PhD.
Shqiperim said: "Studying at the College changed my life and it was an honour to return and speak to graduates. One of the reasons why I am now in academia is I wanted to give something back to the city and return the amazing support shown to me."
Dean Cotton studied childcare at the College before going on to work in a variety of education settings including supporting children with social, emotional and mental health needs.
Dean, who is Director of Positive Behaviour Strategies Ltd, has since completed a Masters Degree in Teaching and Learning. He spoke of the benefits to his happiness and wellbeing from studying, as well as it opening doors to his career.
Dean commented: "My studies led to new experiences and opportunities, and achieving new qualifications made me happier and boosted my wellbeing. It was great to share some of those insights and celebrate such an important milestone with Sheffield College graduates."
The College offers full honours degrees, foundation degrees, higher national diplomas and certificates, and higher apprenticeships, and this year's graduates have completed their qualifications in a broad range of subjects.
The subject areas include animal management, bakery and patisserie, business administration, business leadership and management, civil engineering, computing, construction, dental technology, electrical and electronic engineering, games development, graphic design, health and social care, media production, music, photography, performing arts, sports coaching and exercise, and therapeutic counselling.
To find out more about courses starting in September 2020, click here or call 0114 2602600.