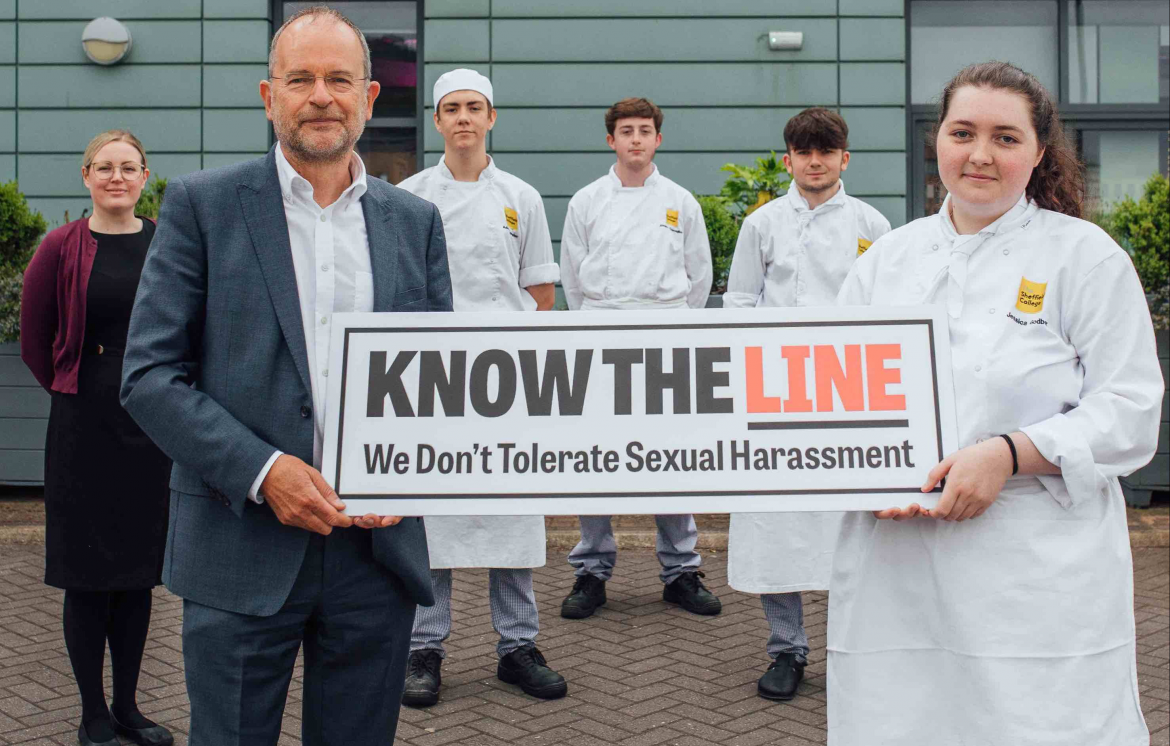 Students and staff at The Sheffield College's Silver Plate Restaurant have backed a new city-wide initiative to combat sexual harassment.
Know The Line is focussing on public places including cafes, restaurants, hotels, bars, pubs and clubs.
The campaign is asking catering and hospitality venues across Sheffield to make a public pledge to zero tolerance on sexual harassment and violence.
Spearheaded by Paul Blomfield MP, Sheffield Central, and Safer Streets South Yorkshire, the campaign is being supported by a raft of venues across the city and partner organisations as well as The Star.
Know The Line aims to raise public awareness so that women and girls feel free to go about their lives without fear for their safety and seeks to challenge perpetrators on inappropriate behaviour.
The campaign was launched in May 2021 following the easing of lockdown restrictions for catering and hospitality venues.
Now the Silver Plate Restaurant, at the College's City Campus on Granville Road, has signed the campaign pledge, which commits to:
Providing a great environment for all our customers and staff.
Protecting everyone with zero tolerance of sexual harassment.
Promoting these values and responding seriously to any complaints about inappropriate behaviour.
To mark the College's support, Paul Blomfield spoke to students and staff about the campaign during a visit to the Silver Plate Restaurant on June 18th, 2021.
He said: "I am pleased that the Silver Plate is backing our campaign by pledging to tackle sexual harassment and create a safe environment for students, staff and customers. I was pleased to meet students and hear their experience of sexual harassment which nobody should tolerate. As people looking forward to great careers in the hospitality sector, I was also encouraged to hear their determination to do things differently."
Sara Ody, Training and Assessment Facilitator, The Silver Plate Restaurant, added: "Given our role in training the next generation of hospitality and catering talent, it is important that we discuss and raise awareness of this vital issue with our students as they prepare to go further in the industry. Pledging to support the Know The Line campaign also provides our students and customers with a reassurance that they will be supported if they experience inappropriate behaviour and reflects the College's wider zero tolerance approach to sexual harassment."
Student Joe Cooper, 17, whose ambition is to become a chef and run his own restaurant, commented: "I think the campaign is great for young people in the catering and hospitality industry as it educates us on what sexual harassment in the workplace is and the impact that it can have on those affected. When we get to the top of our careers, for example, as head chefs, we won't stand for it at all."
To find out more about the campaign, please visit the Know The Line website.
For details about the College's award-winning restaurant, which is open to the public, please visit the Silver Plate website page or call 0114 2602060.
Photo credit: Ellie Last.