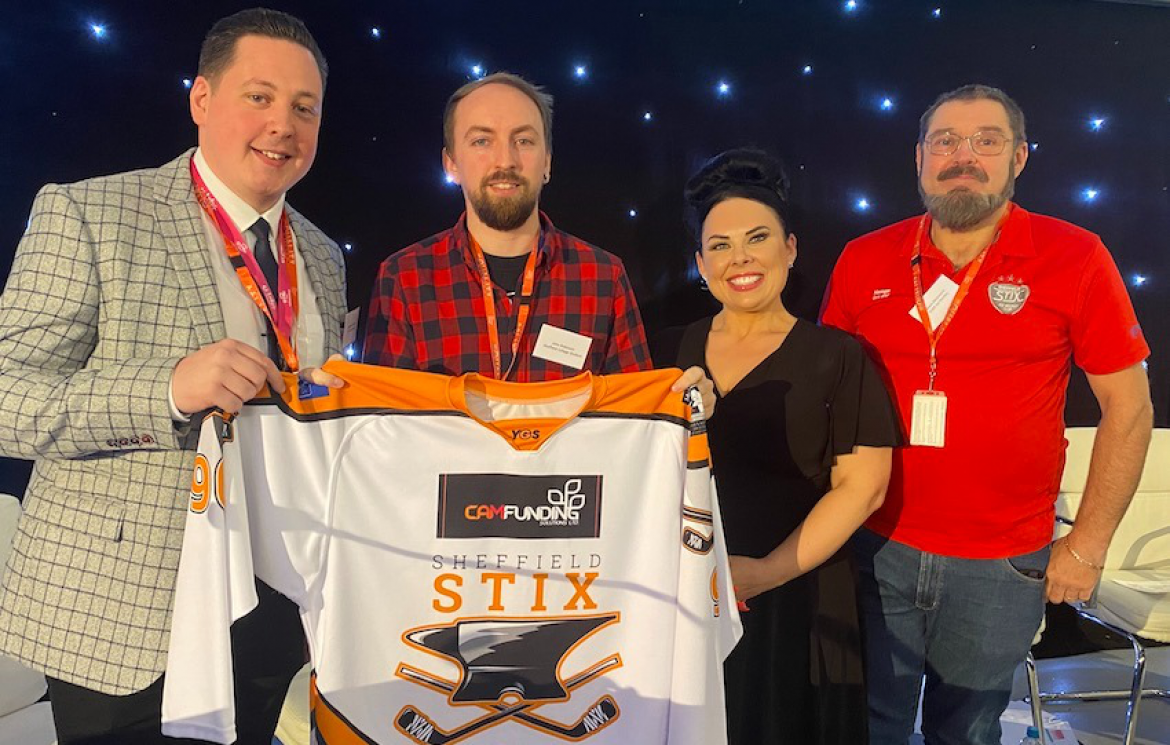 Sheffield College student John Robinson is looking forward to a career change after the selection of his winning design for a local sports club.
The 31-year-old is studying a two-year Foundation Degree in Graphic Design at the College's Hillsborough Campus.
As part of the work related opportunities offered at the College and the Higher Skills Higher Growth scheme, students have the chance to develop their industry skills by working on employer-set projects.
Sheffield Stix ice hockey club worked with the College and invited students to create a new logo and jersey for the Club. The theme of steel, related to city's industrial heritage and forging new talent, was a key element of the design brief.
John's winning design, which comprised crossed hockey sticks overlaid with a traditional metalworking tool known as an anvil, was selected to go into production. Sales of the new jersey have also raised £325 for the Weston Park Hospital Cancer Charity.
He said: "It has been a great experience working on this employer project and it is brilliant to see my creative ideas go into production."
Before he joined the College in 2020, John worked for the motor trade in purchasing and as a mechanic after leaving school. At the start of the pandemic, John was a key worker ordering tyres for doctors and nurses to ensure they could get to work.
During the pandemic, he decided on a career change. "I reassessed what I was doing. I had always enjoyed drawing and illustration and began looking at courses.
John added: "Initially, it was scary thinking about going back to the classroom particularly as I have always been in work and a provider for my family. However, I was really keen to do something more creative and retrain. As my partner took on a full-time job, it made it easier for me to go back to studying."
John would like to complete a third year at the College and achieve a BA Honours Degree in Graphic Design and then work as a freelancer or for a design agency.
His recent experience working on the Sheffield Stix ice hockey club has given him added impetus. John added: "The tutors are brilliant, they are very knowledgeable and there is always someone to talk to. I very much feel part of the College."
Mark McGovern, Director of Sheffield Stix ice hockey club, said: "We have really enjoyed working in partnership with The Sheffield College. We are very happy with the fantastic result of our design brief, which is very bespoke to our organisation. Congratulations to John!"
The Sheffield Stix ice hockey club project came about as part of the Higher Skills Higher Growth scheme, which offers free support to small and medium sized enterprises, start-ups and micro-businesses.
Higher Skills Higher Growth is delivered in partnership by Sheffield Hallam University, The Sheffield College and RNN Group, and is part-funded by the European Social Fund Programme 2014-2020.
Its free support for businesses includes matching skilled graduates and students for short and long-term projects and placements.
Rachel Topliss, Head of Employer Engagement, The Sheffield College, said: "Our partnerships with employers provide valuable industry opportunities for our students that develop their skills and help them go further in their careers. We would like to thank Sheffield Stix ice hockey club for their support."
Watch our YouTube film about the project. Find out more about our courses starting in September.
Pictured: From left to right: Matthew Sheridan, Centre Forward, Sheffield Stix ice hockey club, John Robinson, Rachel Topliss, Head of Employer Engagement, The Sheffield College and Mark McGovern, Director, Sheffield Stix ice hockey club.