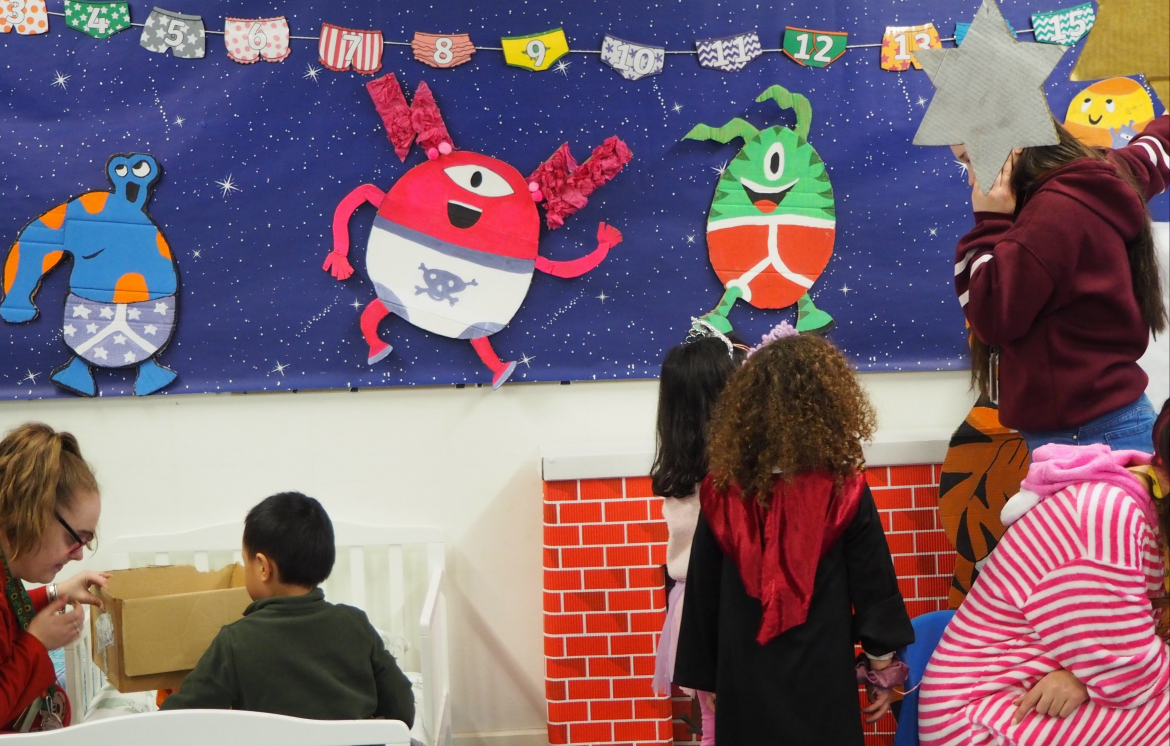 Following our World Book Day celebrations, our childcare and education students rounded up some of their all-time favourites for a handy guide to some of the best children's books. They have provided us with an overview of each book and a quote as to why they love it so much!
Read on to find out which classics made the cut:
We're Going on a Bear Hunt by Michael Rosen
We're Going on a Bear Hunt follows the adventures of siblings Stan, Katie, Rosie, Max, a baby and Rufus the dog, who set off on an expedition in search to find a bear. On each page the family have to overcome different obstacles they come across in order to continue their hunt. As the family encounter each obstacle, they describe it by using sensory descriptions such as long, wavy grass, a big dark forest and a narrow, gloomy cave, so that the reader can imagine themselves on the hunt.
"I would recommend this book as it is such a fun activity to do, if you are acting out or having one of your own little bear hunts."
The Gruffalo by Julia Donaldson
This story is about a little brown mouse that takes a stroll in the woods one day and encounters three different animals along the way: a fox, an owl and a snake. In one way or another they try to invite the small mouse into their home but, every time, the mouse declines politely, telling them tales of a fantastical creature called the Gruffalo. The Gruffalo has many terrifying features such as terrible tusks and teeth, purple prickles along his back, orange eyes, warts and knobbly knees.
"I like this book because it demonstrates that the appearance and size of the Gruffalo doesn't seem to be a bother to the little mouse, even though the other small characters feel quite intimidated by the very huge Gruffalo. I think the mouse's bravery could help the reader, especially if they're a young child, as it would teach them to stand up to mean people or bullies."
The Very Hungry Caterpillar by Eric Carle
The Very Hungry Caterpillar is a picture-book about the life of a hungry caterpillar who is in search of food to eat to turn him into a beautiful butterfly. The caterpillar eats his way through the pages and even through the days of the week. On his journey to find food the caterpillar enjoys fruits, sweets and even a leaf. At the end of the book the caterpillar ends up with a bad stomach ache. After soothing his stomach by eating a green leaf, the caterpillar turns into a beautiful butterfly.
"I really like this book and I would recommend this to children of all ages because it shows them that everyone is born differently and how we all eventually grow up to be someone beautiful inside and out. It also teaches children the days of the week and colours."
Elmer by David McKee
The story is about an elephant Elmer and his fun adventures. Elmer the patchwork elephant is different to all the other elephants and he's usually the one who makes everyone laugh. One day, Elmer starts to feel like the odd one out and so leaves the elephants to go off on his own. He wants to be just like all the other grey elephants, but later realises that being his own colourful self is far more enjoyable.
"I would recommend this book because it teaches children important lessons, that it is okay to be different and that you should always be yourself."
Charlie and the Chocolate Factory by Roald Dahl
Charlie Bucket a young child, finds a golden ticket that will take him into Willy Wonka's magical chocolate factory. He has a tour of the factory with his grandpa Joe and four other children: Augustus Gloop, Veruca Salt, Violet Beauregarde and Mike Teavee. The factory is full of lots of surprises including a chocolate river, crafty squirrels and mysterious Oompa Loompas.
"I think this is a well written book with plenty of imaginative writing for children to enjoy. It gives children who are having a difficult time a strong sense of hope and shows them that nothing is impossible."
---
From adventure stories to treasured classics, these are the books that children (and adults!) will remember for years to come.
If you think you would like to work with children and their families, click here to read more about the study programmes we offer and apply today!