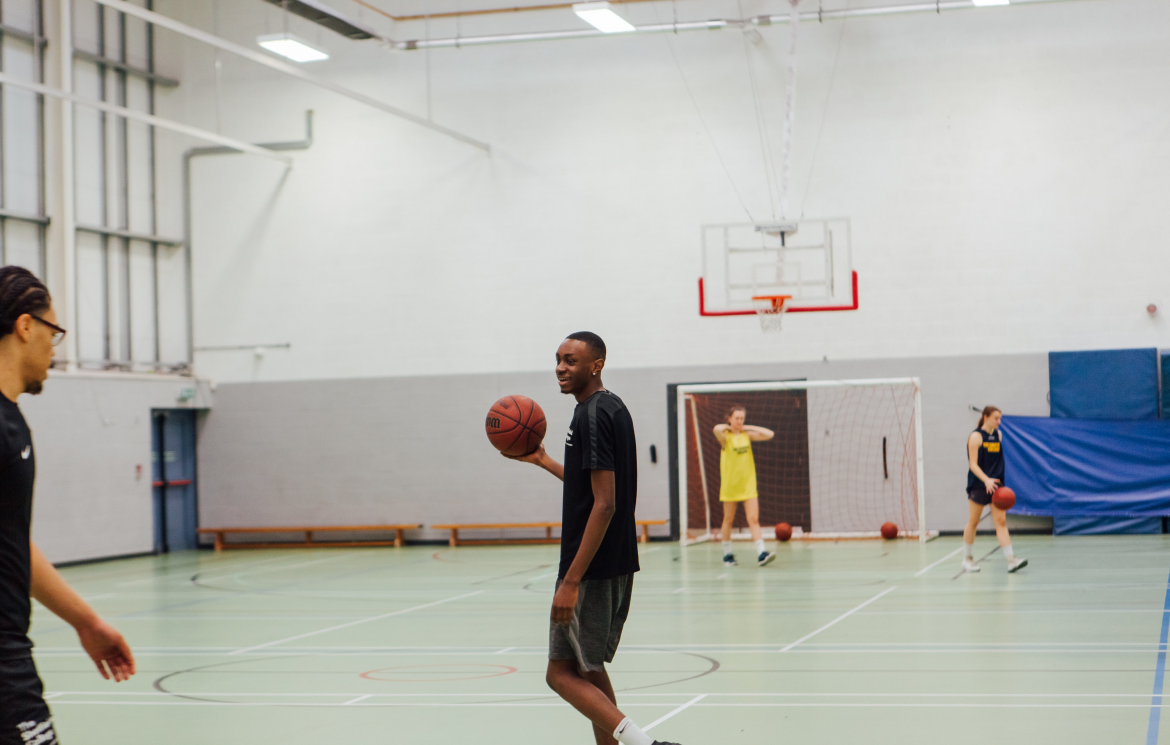 We are one of the best places in Sheffield to study sport, offering many study programmes including courses in sport science, coaching, fitness and not to mention our Elite Basketball Pathway.
Our competiveness and great connections help to provide you with unrivalled opportunities for career experience. So, let's get cracking with a just a few of the careers that you could have in sport after studying at The Sheffield College.
Fitness Instructor
As a fitness instructor, you will:
Understand the health and safety aspects of different forms of exercise and ensure that any statutory requirements are met
Ensure that clients do not injure themselves through over exertion or using incorrect training techniques
Demonstrate and lead fitness activities and supervise exercise classes
Devise programmes of training appropriate to the needs of clients with varying levels of strength, fitness and ability
Click here to view our sport study programmes.
Sports Coach
As a sports coach some of your daily tasks will consist of:
Inspecting and maintaining specialised clothing and equipment
Understanding health and safety aspects of various activities and ensure any statutory requirements are met
Providing information and developing facilities to encourage greater participation in sport
Arranging matches, contests or appearances for athletes or teams, and organising required transport and accommodation
Monitoring and analysing technique and performance, determining how future improvements can be made
Controlling team selection and discipline and recruiting ancillary staff such as coaches or physiotherapists
Coaching teams or individuals by demonstrating techniques and directing training and exercise sessions
At our Open Days, you can speak to our job experts about careers you're interested in and what you need to do to get there. To book your place at our Sport Open Day on Wednesday 20th April 4-7pm, click here.
Leisure and Sports Manager
As a leisure and sports manager, you will:
Ensure custody of all cash receipts and organise regular stock checks
Recruit, supervise and train staff
Determine financial, staffing, material and other short and long-term needs
Advise on the facilities available and promote publicity in relation to shows, games, races, etc
Ensure that facilities are kept clean and in good condition and that appropriate health and safety requirements are adhered to
Organise timetable of activities/schedule of programmes
If you're unsure about which level or route is best for you, you can visit one of our Open Days where we can help you to identify and achieve your goals as well as the qualification and level that's most suitable. Book a place at our next Open Day here.
"The skills that I learnt have set me up for life within sport coaching. It's allowed me to set my own business up and learn how to manage my staff."
Joe Slater
Former sport student and member of staff at The Sheffield College
To find out more about the programmes we have on offer, the facilities that you could be learning in and the support you could receive from The Sheffield College, why not attend our next Open Day? You can find out more here: https://www.sheffcol.ac.uk/open-days