With us you'll learn classic techniques, be given the confidence to find your own style and develop an incredible understanding of the industry from staff, former students and employer partners through masterclasses, placements and more.
But what happens once you finish your studies with us? Read on to see what some of our former students are up to now!
Daniel Ashmore
Dan studied catering and hospitality with us at The Sheffield College and is currently Head Chef at Dean Banks at the Pompadour in Edinburgh, Scotland. He has worked for many prestigious restaurants such as Gleneagles, Fischers at Baslow Hall and The Square in Mayfair, just to name a few.
His daily responsibilities at The Pompadour consist of:
Controlling and directing the food preparation process
Approving and polishing dishes before they reach the customer
Working closely with other chefs at all levels
The restaurant is a brand new fine dining experience in the Edinburgh and embraces the same ethos as Dean Banks's Haar Restaurant, St Andrews, showcasing the best of land and sea.
What Dan had to say about studying at The Sheffield College:
"I have gained so much from my time at the college – I am indebted to my tutors for all the knowledge, time and expertise that they passed on to me. Their passion, drive, creativity and care are inspiring. I still use their recipes today because they are so good."
Luke Rhodes
You may recognise Luke's name from the popular BBC One's Masterchefs: The Professionals TV show. Making it to the semi-finals and the final 8 contestants, Luke truly did us proud!
Like Dan, Luke also studied catering and hospitality here with us at the college and then moved over to Australia where he worked in a two-hat and three-gold plate restaurant for some time.
He is now currently working for the Whirlow Hall Farm Trust as Head Chef where he controls and oversees the food prep and cooking processes, approves and dresses the dishes before they reach the customers and works alongside other chefs.
The Whirlow Hall Farm Trust is a registered charity to help children from less fortunate backgrounds experience outdoor learning. They run programmes to help children develop life skills, grow in confidence and reduce the risk of isolation. As well as this they have the Cruck Barn Café where you can dine in through the week, on weekends and attend a number of delicious Bistro Nights that they host throughout the year. This is where you'll get to taste Luke's amazing cooking!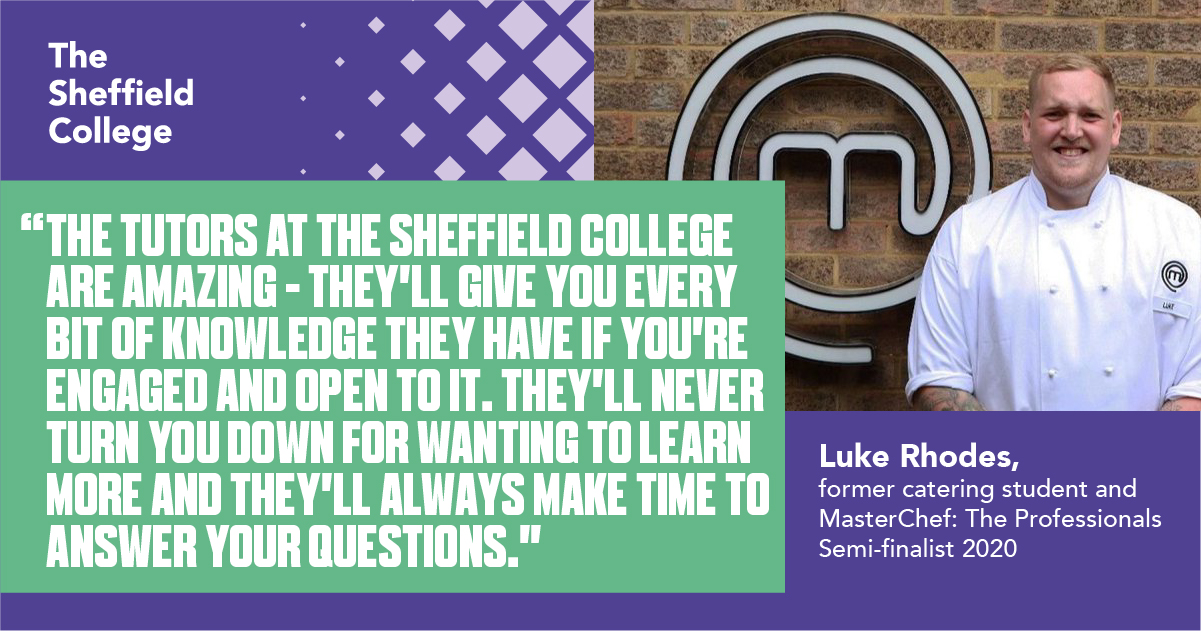 Want to find out more, sign up to our Sector-specific Open Day. You'll get to find out what working in the industry is all about.
These are just 2 of the many former students we have who are now chefs, bakers or front-of-house staff, maybe you could be next! To find out more and to apply today, click here.