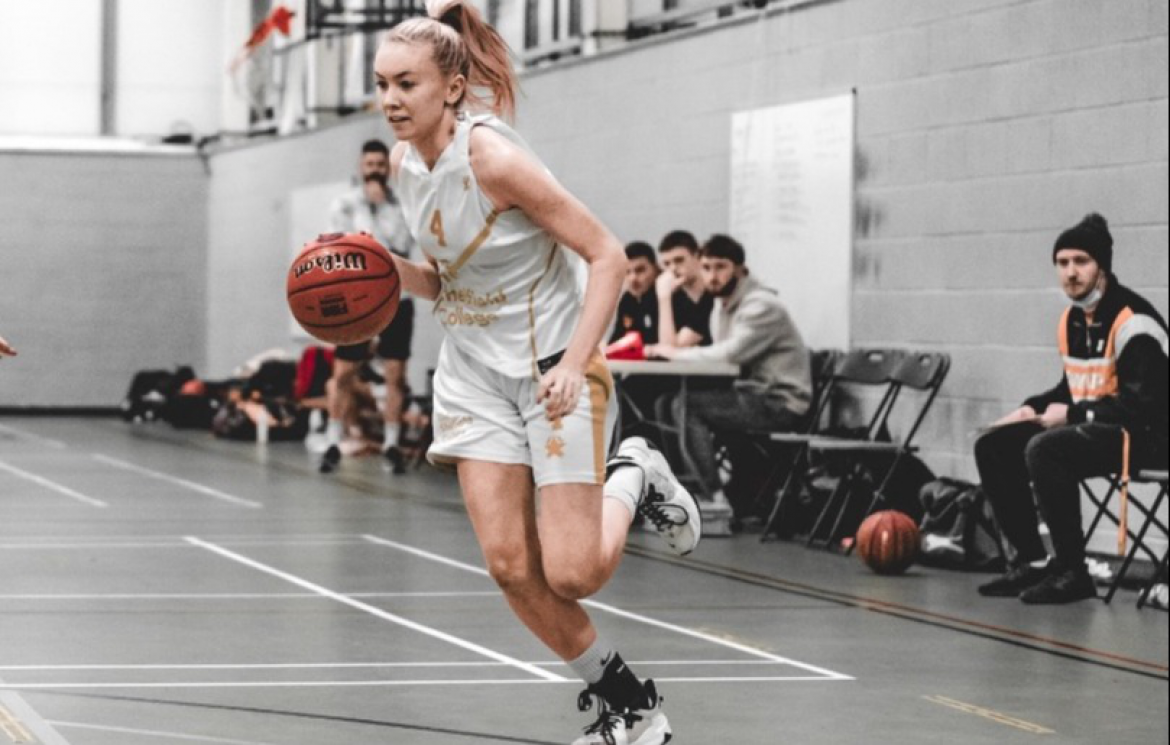 Talented basketball players at The Sheffield College have been recognised in a national awards scheme.
Three students and a coach have received Individuals Honours for 2021/22 in the Women's Elite Academy Basketball League (WEABL) and the Elite Academy Basketball League (EABL).
In partnership with AoC Sport and Basketball England, the WEABL and EABL offer the highest level of college and school competition in the country.
The competitions support potential elite athletes by giving them the opportunity to test their skills at the highest level during the academic calendar. The Sheffield College award winners for 2021/22 are:
Student Abbey Whitehouse - WEABL North Most Valuable Player award.
Will Hopper - WEABL North Coach of the Year award.
Student Jasmine Graham - Most Improved Player award
Student Declan Kom - EABL Under 17 Player of the Year award
Student Abbey Whitehouse, 18, said: "I am grateful to receive this award and the opportunity to play this year with a wonderful group of girls."
Student Jasmine Graham, 18, said: "I feel very privileged to have won the award and it's great to get recognition for the hard work I have put in this season. The thing I love most about basketball is the competition. Being on a basketball court there is always motivation to compete and work hard and when in close game situations the 'hype' surrounding the game is thrilling."
She added: "I'm enjoying the social aspect of college, I have met so many new people. This season has brought new teammates. Being able to bond so well and seeing them get better as the season has unfolded has been a great experience. My long term career goal is to, hopefully, go professional in Europe."
Will Hopper, WEABL Head Coach, commented: "We've put a lot of hard work into this season and it's great that not only me but Abbey Whitehouse and Jasmine Graham were also recognised as top talent within the WEABL. These individual awards are always great to receive but if we hadn't worked hard as a group it wouldn't have been possible. The girls have been fantastic this season and they are a real testament to the College."
Student Declan Kom, 17, who won an EABL award, added: "Winning this award is a great achievement that I will take pride in for years to come. It is also something that I am hoping to build on. Wherever I am playing basketball is where I am most myself - it is what makes me who I am."
He added: "My time at college has been enjoyable mostly because of the support staff have shown me on and off the court and the freedom I have been given to pursue my dream. In the long term, I would love to be a professional in this sport at a high level so that I'm in a position to have a positive impact on the world."
The College has been chosen by Basketball England, the sport's governing body, to be part of the England Development Programme for basketball in Yorkshire.
The students are completing the Diploma in Sporting Excellence (DiSE) with Basketball England alongside their main study programmes, which is aimed at talented basketball players who have the potential to play internationally.
Students learn about developing a career in sport, nutrition and managing their lifestyle to achieve excellence, and study and train at the College's City Campus, on Granville Road, and Hillsborough Campus, on Livesey Street.
The basketball teams are part of the College's Elite Sports Academy, which is one of 17 employer skills academies that support students to develop the industry relevant skills they need to go further in their careers.
Bradley Connor, Basketball Course Leader and Coach, The Sheffield College, said: "We are very proud of what our students and staff have achieved."
The WEABL and EABL awards were announced on March 29th 2022. Visit our website to find out more and get the latest information about our next open days.
Pictured: Student Abbey Whitehouse won the WEABL North award.