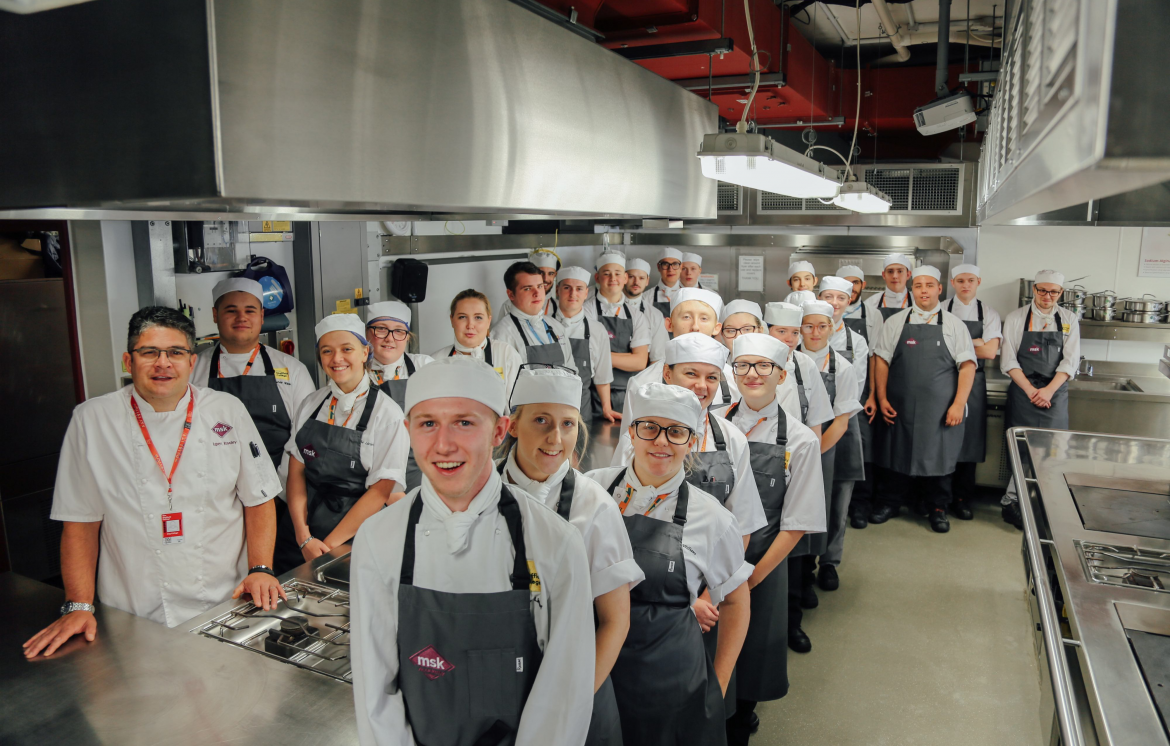 An award-winning programme providing The Sheffield College students with technical and professional skills is being backed by more top employers.
As the new academic year gets underway, the College has welcomed five new organisations to its employer skills academies programme bringing the total to 18.
Set up in partnership with employers, the academies cover business and enterprise, construction, catering and hospitality, cyber security, engineering, games, animation and special effects, healthcare, information technology, plumbing, professional make-up, sales and marketing, and sport.
Employers co-design the curriculum to simulate real-life work and provide masterclasses, projects, workplace or industry relevant visits and placements to enhance students' employability skills.
Angela Foulkes, Chief Executive and Principal, The Sheffield College, said: "We are very proud of our award-winning employer skills academies. They are inspiring our students to get the skills, sector knowledge, practical experience and qualifications to go further in their careers."
Rachel Topliss, Head of Employer Engagement, The Sheffield College, added: "We are delighted to welcome five new employers to the programme. Employers have the opportunity to mould the talent of the future to meet local skills needs. Their staff also benefit from upskilling as they become involved in the mentoring of our students."
Altogether there are 18 employers backing 21 employer skills academies. The new academies that have opened this month are:
Barclays Life Skills - which provides all students with online and in person training to develop their professional, technology and social skills.

Force Contracts Plumbing - which supports students who are completing a Level 3 qualification in plumbing.

HEW Coaching and Development – which supports SEND and inclusion students with their employability skills and preparation for the world of work.

Highlander Computing Higher Education (HE) Academy – which supports students completing the HNC Computing for England qualification and covers programming, networking, professional practice, artificial intelligence and software development.

University of Sheffield Healthcare Academy – enables students to gain an insight into the various roles available within the healthcare sector.
Victoria Roberts, Business Manager, Force Contracts Ltd, said: "Force Contracts Ltd are really excited to be supporting the next generation of plumbers and heating engineers through the academy. As a family run business of 30 plus years, we have a solid history in bringing on young people through our company so we see the academy as a natural extension of that.
"We will deliver some extra support to enhance the students' college experience including some fun interactive sessions involving new technology and old school traditional methods and instrumentation along with sharing our commercial expertise."
Professor Mary Vincent, Vice-President for Education, University of Sheffield, said: "This ground-breaking partnership with The Sheffield College will empower and equip healthcare practitioners of the future. The University of Sheffield is passionate in supporting and preparing prospective students before they take their next steps in a range of health disciplines, from nursing and midwifery to dentistry and orthoptics.
"Our goal is for young people to be at the forefront of change in order to improve the health and wellbeing of local communities and to understand how to combat health inequalities in all areas of South Yorkshire. The workshops and masterclasses will provide young people with an overview of university life as well as the various healthcare roles available to them. They will have exclusive access to professional industry knowledge, interactive equipment, and real-world scenarios."
The academies continuing for 2022/23 are:
City Taxis Business, Sales and Marketing Academy

Discovery STEM Education Academy

Elite Sports Academy

Greene King Hospitality and Catering Academy

Kier Construction Academy

Kryolan Professional Make Up Academy

Millgate Networking and Cyber Security Academy

MSK Professional Cookery Academy

MSK Patisserie Academy

NextGen Games, Animation and VFX Academy

The Yorkshire Film and TV Academy

Sheffield Chamber of Commerce Business and Enterprise Academy

WANdisco Data Academy

Work-Wise STEM Development Academy
Around 1,200 students took part in the programme in 2021/22 which included 145 masterclasses as well as industry visits and placements and workshops.
One student who has benefited is Naomi Conway, who has just completed a Degree in Performing Arts.
Naomi set up her performing arts school, Footsteps Theatre Limited, after attending workshops on start-up skills, finance and marketing provided by the Sheffield Chamber of Commerce Business and Enterprise Academy.
She said: "Studying at the College has changed my life and thanks to the academy, I have launched my own business. The academy is such a great idea. It teaches you problem-solving skills and it gives you a network of support, builds your self-confidence and makes you resilient."
The College won the Educate North Award 2022 for Employer Engagement and an Edufuturist Award 2021 for the employer skills academies, which launched in 2019.
Visit our employer skills academies website page to find out more.
Pictured: The MSK Professional Cookery Academy and the MSK Patisserie Academy are part of a growing skills programme benefiting The Sheffield College students.