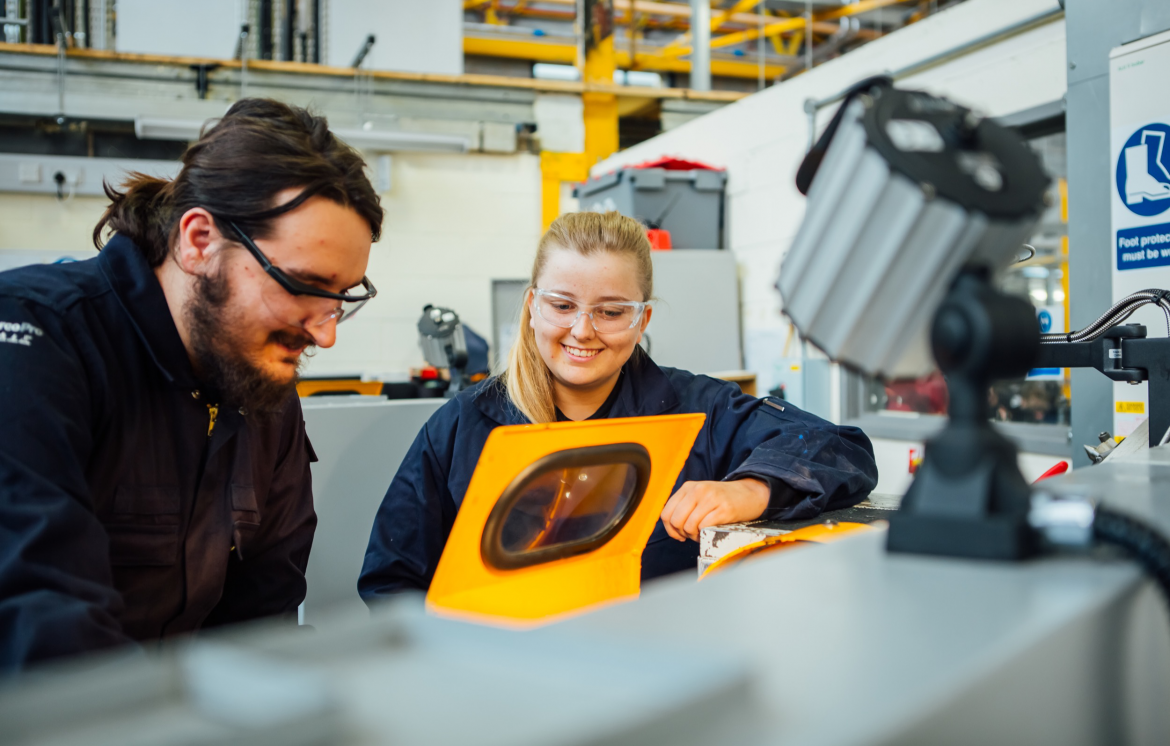 1. Engineering is just for boys
For the longest time, it has been assumed that Engineering is a subject and career path solely for men; this couldn't be further from the truth. Many Engineering firms are now actively dedicated to recruiting more female engineers, there is even an official institute for Women in Engineering that celebrate International Women in Engineering Day each year on the 23rd June.
2. Only top students can study Engineering
If you ask around, many people will tell you that to get onto an Engineering study programme you need to have been at the top of your class, with the best grades. Although having good grades won't hurt your chances, there are now more accessible ways of getting onto an Engineering course if you maybe haven't got the required grades.
For example, at The Sheffield College, we have a Level 1 Engineering course which will introduce you to the basics of Engineering with the aim of progressing you to a Level 2 programme or an Apprenticeship. It's the perfect starting point for a career in Engineering.
If you're unsure about which level or route is best for you, you can visit one of our Open Days where we can help you to identify and achieve your goals as well as the qualification and level that's most suitable. Book a place at our next Open Day here.
3. Engineering isn't for creative people
Engineering is reliant on creative people! Whilst you study and throughout your career, you will be expected to produce new ideas and solutions. Depending on your specialism you may spend a lot of time producing engineering drawings or working on computer-aided design software (CAD).
4. Engineering is a boring subject
A lot of people associate Engineering with complicated symbols and a lot of maths! Although there are elements of this throughout the subject, you will also have the opportunity to study a variety of key engineering principles, including how to produce engineering drawings, computer-aided design (CAD) and materials used within the engineering industry. By the time you finish studying you will have developed a wide variety of different skills.
Our engineering courses are housed at our Olive Grove Campus, which we've recently invested nearly £7 million in to provide you with workshops and teaching facilities that rival the biggest companies and the latest equipment that you'd find in all the workshops around the world. You can tour our fantastic facilities at our next Open Day on Wednesday 24th November 4-7pm. Click here to book your place.
5. The industry is too competitive to get a job after studying
The engineering sector is a huge employer, both regionally and nationally, so you should be well placed to find a job once you finish studying. Despite the pandemic, there was an increase last year of 300 jobs in the Sheffield City Region alone. Plus, with high-end salaries of approximately £54,000 per year, career prospects in the engineering sector are pretty strong!
If you think a study programme in Engineering might be the next step for you, why not attend our next Open Day? You can find out more here: https://www.sheffcol.ac.uk/open-days.