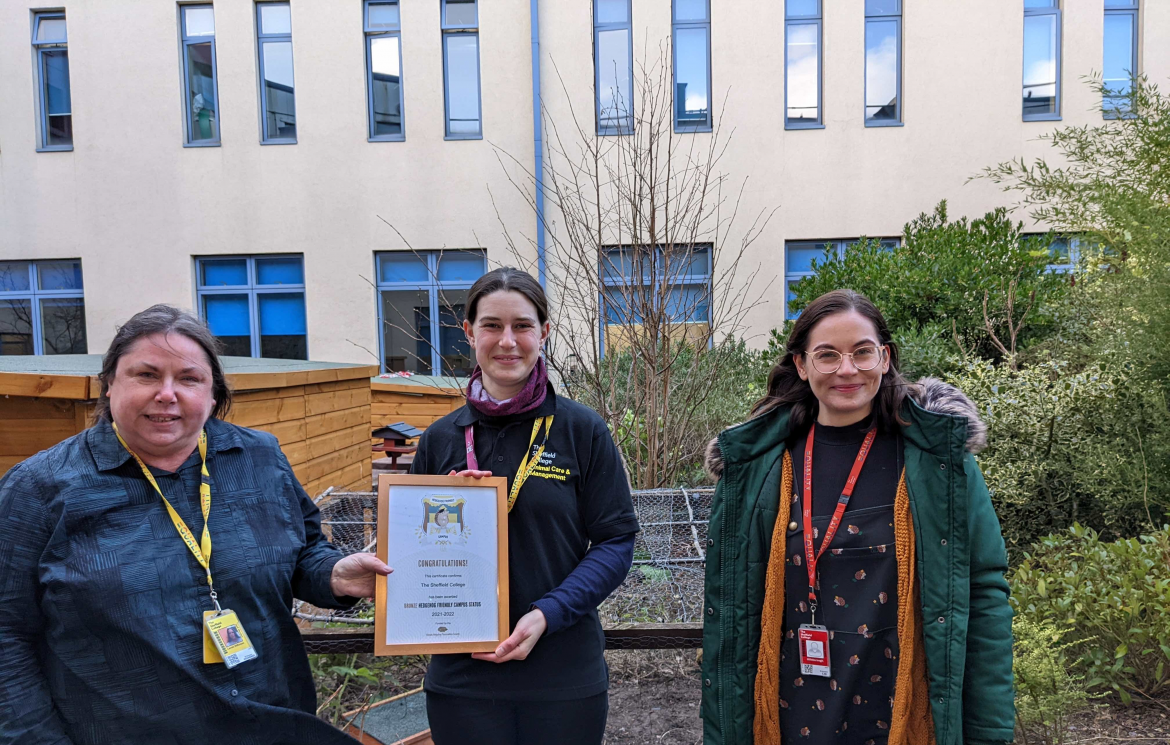 Students and staff at The Sheffield College have won a national award for creating a hedgehog friendly campus.
The College has received the accolade from the British Hedgehog Preservation Society.
Students and staff were presented with the Hedgehog Friendly Campus Awards 2021/22 bronze accreditation certificate this month.
It follows on from the launch of a project at the College last year to create litter-free campuses with joined-up habitats and opportunities for hedgehogs to eat, drink and nest.
The project is part of a national campaign being led by the British Hedgehog Preservation Society to turn campuses into places where hedgehogs can thrive.
Its Hedgehog Friendly Campus project is now being expanded beyond universities to include further education colleges and schools.
Carole Wilkinson, Learner Support Assistant in Inclusion, The Sheffield College's Peaks Campus, said: "It's fantastic that students and staff are doing all they can to preserve local wildlife and we are delighted to receive national recognition of this."
Hannah Cambé, a Level 2 Animal Care Course Leader and Lecturer, The Sheffield College's Hillsborough Campus, added: "We have the skills to support the rehabilitation of hedgehogs and release them back into the wild. It's great to see wider efforts at the College to help this wonderful species survive."
Hedgehogs are vulnerable to extinction in Britain, according to the British Hedgehog Preservation Society, having declined by 50% since 2000. Roads, litter, a lack of food and water and a reduction of their natural habitats are thought to be contributing factors.
Students and staff have been involved in litter picks, planting sessions, hedgehog surveys and fundraising events and have signed up to be Hedgehog Champions. Both Carole and Hannah are designated Hedgehog Champions.
Students have become Hedgehog Ambassadors and received a certificate and CV reference from the Hedgehog Friendly Campus team for getting involved.
The College also has a member of staff, Abby Bruce, Head of Academy, Animal Care and Land-based Studies, who previously worked as a wildlife nurse and provides advice on the rescue, rehabilitation and release of hedgehogs.
Animal care teaching staff and students have cared for several hedgehogs at the College in preparation for releasing them back to the wild.
Jo Wilkinson, Project Leader, British Hedgehog Preservation Society, said: "College communities can do big things to help hedgehogs thrive. It's great to see students and staff support our national campaign and we're delighted to present the bronze award to The Sheffield College."
College staff were presented with the certificate on February 4th, 2022. Follow @SheffCol @HogFriendly #HFCBronze.
Find out more about our next sector specific open days taking place today, March 14th, April 20th and April 27th 2022.