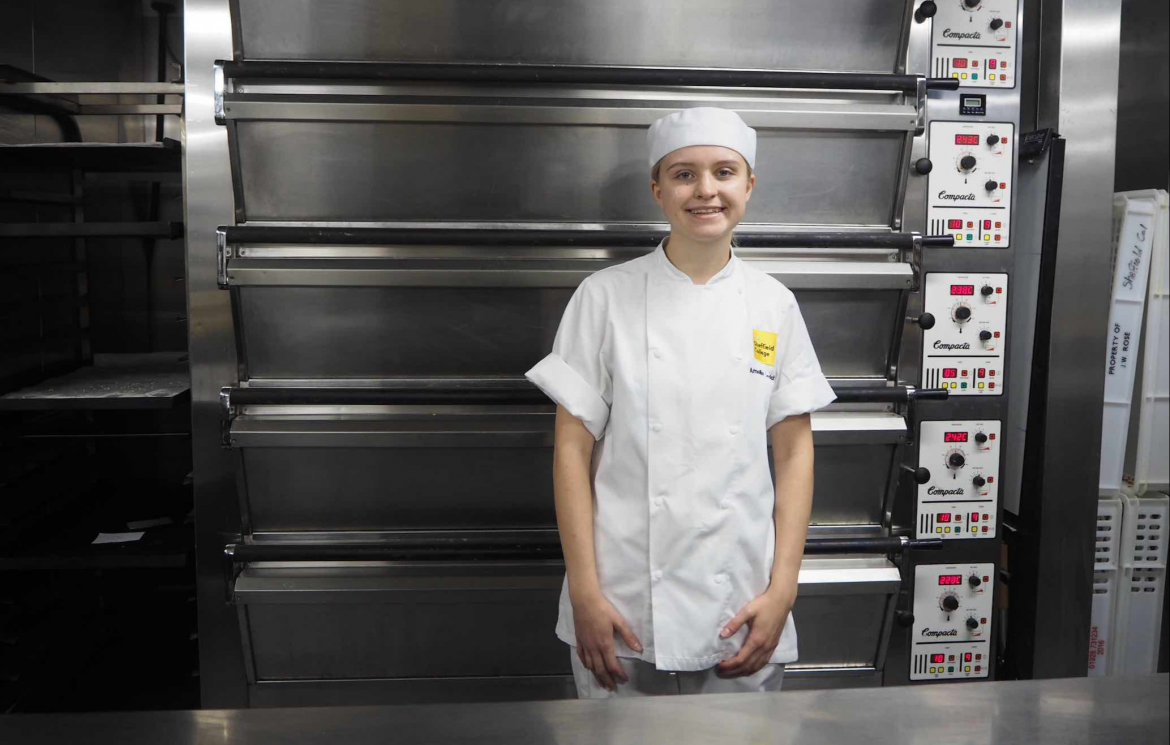 A talented baker who trained at The Sheffield College is a finalist in a prestigious national industry competition.
Amelia Levick, 20, is shortlisted in the Rising Star Award 2021 category of the Baking Industry Awards, organised by the British Baker magazine.
Amelia has just completed a Foundation Degree in Bakery and Patisserie Technology this summer after four years studying at the College's City Campus.
Now she is progressing to the University College Birmingham to study for a top-up year to achieve a BSc Honours Degree in Bakery and Patisserie Technology.
Amelia said: "It's an amazing feeling to be shortlisted for this award by people so well respected in the bakery industry."
She added: "I love the creativity of baking and how you can express yourself through it. To me, baking is a form of art. Besides, cake makes people happy!"
Since the age of seven, Amelia has known that she wanted to have a career in bakery. In the face of setbacks, she has been single-minded in her ambition. The judges were impressed with Amelia's drive and passion. Amelia has credited her lecturers for inspiring her daily.
Amelia joined the College at the age of 16 on a Level 2 qualification after completing her GCSEs at school. During the last four years, Amelia has progressed through the vocational qualification levels.
After completing Levels 2, 3 and 4, Amelia achieved a first class grade in the foundation degree, a Level 5 qualification. Her career ambition is to start her own bakery business.
Amelia explained: "Studying at The Sheffield College has changed my life. I loved being there so much that it felt like a second home. I've struggled with dyslexia all my life.
My college lecturers did so much to support me and I've grown in skills, confidence and self-esteem. If I hadn't chosen to study at the College, I don't think I would be where I am now and going to university - I would have nose-dived."
Amelia added: "It's given me a real sense of accomplishment to get to degree level with my qualifications. I've worked so hard, constantly wanting to know how I could improve."
Steven Salt, Curriculum Team Leader and Head of Bakery, The Sheffield College, said: "Amelia has shown, through hard work and commitment, that you can achieve your goals. Amelia has a thirst for knowledge and was always asking questions. She demonstrated a determination and drive especially when entering competitions."
He added: "Amelia would keep trying until she got the results she wanted, and this led her to win a lot of competitions. It has been a pleasure and privilege to teach Amelia. She will have a long and very successful career and we, at The Sheffield College, are so proud of her achievements."
The winners of the Baking Industry Awards will be announced at a ceremony being held at the Royal Lancaster in London on October 21st, 2021.
Find out more about our next open days and our catering and hospitality courses.
Photo credit: Dan Beale